As an early childhood special educator turned Infants and Toddlers specialist, my mission is to spread the love and engagement with core language as much as possible.  I have slowly started teaching families and now daycare centers how to use core language in their everyday routines and I have to say so far, the response has been positive!  Not everyone is ready to dive in but it's ok, I will get there even if it's incorporating one symbol at a time.  I find that many people are afraid to use core language visuals because (1) they're afraid it will prohibit their child from ever becoming verbal (spoiler alert- it does not if a child is going to be verbal) and/or (2) they do not know how to use it and have performance anxiety around the concept.  Using core is like anything else, the more you try and play around with it, the more natural it becomes.  Let's see how you can easily incorporate core into your story time routine!     
Materials need for core and story time
There are many things you can use to make story time more engaging and fun such as puppets, props, and real items.  In the basic scheme of things, my favorites are adapted books because of the moveable, interactive pieces, some highlighting tape, a core board and some post it notes!  If you are new at creating your own core board, check out my last post here.  The two adapted books I highlight here are the Farmer, Farmer Adapted book series and Sarah's freebie of "There was an Old Lady Who Swallowed a Fly".  You can find the farmer books here and The Old Lady book here.  Once you gather your materials and choose your book, read through it and decide what core words you want to target with your students.  You do not have to choose every core word in the book as there can be a lot! Words like go, eat, my turn, your turn, and wh type core are always winners! They can be very relatable to literacy standards in general and easily tie into standards such as "asking and answering" questions.
How to model core
Modeling core should be fun and no pressure.  If you're starting out take a copy home and practice with it so you become familiar with where the symbols are.  I learned quickly that highlighting the targeted core words with Washi tape or pipe cleaners are a sure way to remember where the words are!  Highlighting the words creates even more access to peers who can be invited up to model language while you read!  The board should not only be used by students with language delays.  Teach your classroom community how to use the board when speaking, playing, and reading.  My three-year-old's could do this and they loved using the core boards!  When modeling, use that post it of targeted words to touch as you come to that word in the book.  For example, if you're reading the line "Who is in the tractor?" you would touch the word "who".  If you're reading one of the Old Lady books, you can touch the word eat when you're reading about her swallowing the cow.  Check out my video below to see this in action! Happy reading!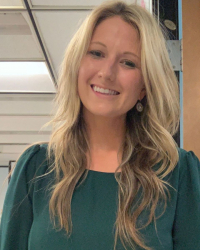 Latest posts by Gina Russell, B.S , M.Ed
(see all)