How could I forget about the original Old Lady book? – There Was An Old Lady Who Swallowed a Fly!  As I was organizing my books and trying to find new ones to make pictures to support the books I realized I never made book pictures to pair with the book There Was An Old Lady Who Swallowed a Fly! by Lucille Colandro.
There Was an Old Lady Who Swallowed a Fly! is not linked to any particular holiday so you can use it anytime of the year.  I figured it might be good to use this Spring with my students because it is all different animals the old lady swallows and I'm going to do some animal theme activities in therapy in the upcoming weeks.
Here is quick refresh on how to set up these type of book resources.  I put a piece of hard Velcro on each page which corresponds with one of the small book pictures.  I put soft Velcro on the back of the small book pictures so the students can attach the pictures into the book while we read the story.  I also put a piece of hard Velcro on the cover of the book and have the students attach the old lady picture to the cover to answer the questions "who is the story about?"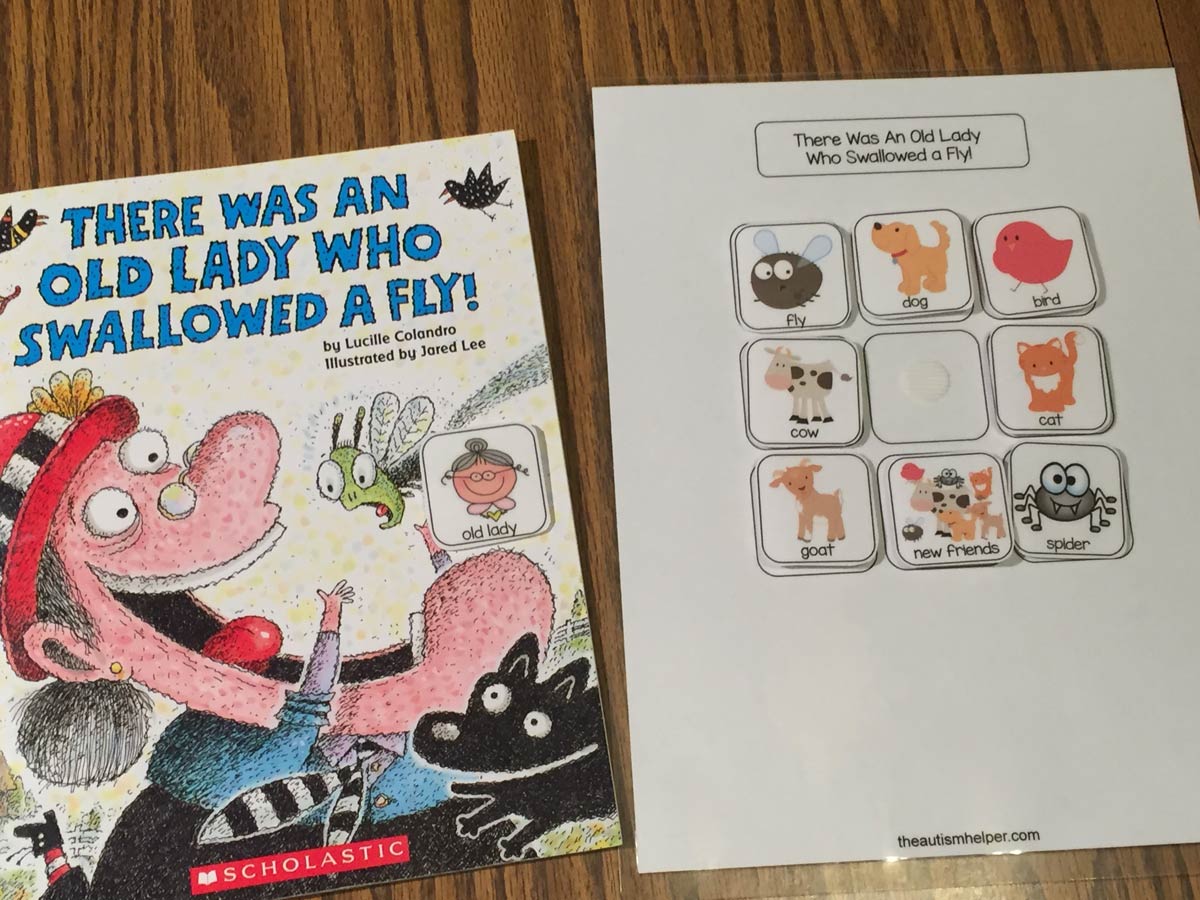 After I read each item the old lady swallows I have the student match the corresponding picture into the book.  For example, after reading "there was an old lady who swallowed a fly" have the student find the fly picture and attach it into the book.  For some of my students, I may provide them with a visual field of 2 pictures to select from and add it to the book.  "A fly or cow".
I model those sequential terms so on the first page I hold up on finger and say "first fly".  Same thing for the next page – "second spider" and so forth.
For my higher functioning students I like to ask follow up questions while reading such as "what does the dog say?"  or "what does the cow give us?" I constantly review the order of the items the old lady swallows.
Hopefully by the end of the book the students can remember all 7 items the old lady swallowed and in the correct order.  I have my students take the larger book pictures and place the items in the correct sequential order.  For some of my students I provide them a choice of 2 items as they work on identify which item came next.  I have the students take turns re-telling the story to the group while using the pictures for the visual support they need.
You can use the visual questions or written questions either while you are reading the story or after you finish the book depending on your students' skill levels.
If you are interested in a FREE copy of these book pictures, visual questions, and written questions click the following link – There Was an Old Lady – Fly
Latest posts by Sarah Allen, MA CCC-SLP
(see all)