Often times the big issue is what to do with all that stuff!? You have tons of tasks for tons of types of students but how do you keep it all straight. I hate forgetting which tasks I have or not being able to find an activity when I need it. I am obviously organization obsessed – but it's for a good reason – it makes my life easier! I have gone through a bunch of systems for organizing work tasks. It's the same as data! Do what works best for you!
I have three types of independent work task systems in my classroom:
Table Time: Done by all students. Buy the system here.
Factory: This is an extra independent work center I switch out every week. This is nice to have when I have extra time in some of my students' schedules and they need some extra work!
3 Bin Work Task: This is for my students who struggle to work independently and need additional structure.
I store the rest of my tasks and activities in my closet. I did a fabulous reorganization last year (if I do say so myself):
Then I pull the tasks and activities that are targeted for each student and put them in the direct instruction area:
Obviously, I have loads of types of products for a huge range of work tasks!
No need to reinvent the wheel! Check out my store!


File Folders (I LOVE file folder activities! They are space efficient, durable, and adaptable!):
Reading Tasks:
Math:
Social Studies:
One more step left! Next up is communication! 🙂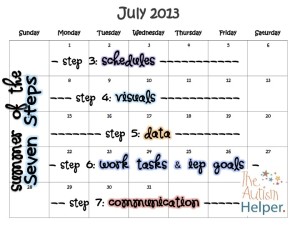 Latest posts by Sasha Long, M.A., BCBA
(see all)