Behavior is never a cut and dry, use this strategy for this specific behavior and it will work every time. You want to make sure you are determining the function behind the behavior before settling on an intervention.  On the other hand, there are some tried and true basics to teaching that truly work in most minor behavioral situations (aka not safety threatening).  If you want a more in depth look into behavior interventions check out this post!
My favorite tried and true behavior strategy: First/Then Chart
I always mention this behavior strategy because it is so incredibly effective (when used correctly)! I use it as a preventative and in the moment strategy.  First/Then charts are incredibly useful when a student needs help getting through a non-preferred activity, transitioning, or completing work within a lesson.  If I know it's going to be a difficult transition (ie: work first then center time), I will post the first then right on the schedule so it's ready to go! I also LOVE taping on objects to the first then chart because obviously we don't always have a picture of what our students want, and it may be an actual toy or object!  While what you say will always be different, when a student is struggling, I might say something like, "Look! First group then toy!"  Most importantly, follow through with the first then.  If the chart says the student will get his toy after group, make sure you give him the toy after group.  No fitting in another transition or task even if it is tempting!
Many of my littles have an enormous amount of natural energy.  When that amount of energy cannot be tamed with normal class routine movement, centers, recess, etc, I look into possibly needing a separate break or it being a sensory behavior (read more about that here)!
This picture shows an example of a sensory break schedule.  I use this for a student who is incredibly active and seeks input through touch and movement.  The cards are removable which makes it easy to keep the activities fresh and even offer some choice if there is any resistance in completing the break schedule.
You know it.  We all learned about it through our education degrees. Active engagement.  When students are actively engaged, we see far less behaviors! I keep my littles busy by posting a visual picture schedule and always having plenty of activities on hand. Some of my favorites are file folders and adapted books.  If there is ever any down time between transitions or we have extra activity time, I always pull out these amazing materials!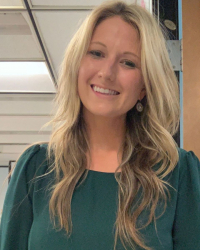 Latest posts by Gina Russell, B.S , M.Ed
(see all)