Shred paper
Something always needs shredding and a super easy job to put together.  Email your building staff asking if anyone has an extra shredder they would be willing to donate to your class.  Get an empty box or bin for the papers that need shredding.
Add emptying the shred and replacing it with a new trash bag as an additional job to this task.
Crimp paper
This is one of my favorite job tasks in the classroom and one that students have loved over the years.  Use scraps of paper and get a crimper from your local craft store.  Students will love seeing the paper crimped. 
Crush Pop Cans
Set up a recycling bin in the teacher's lounge to collect empty pop cans.  Students will get the empty pop cans, rinse them out with water, and use the can crusher to crush the cans.  You can have students recycle the cans after.
Sort mail
Use a paper organizer and put labels with the last names of staff members on each shelf.  Grab some recycled magazines and envelopes with the last names of the staff members and have students sort the mail.  Once they master it in your classroom, talk to your administrators and secretaries about having your students check the mail daily and sorting it into the staff mailboxes.
Library books
Decide how you want students to stock the books and create labels for each bin.  You can stock the books by theme/genre, create labels with numbers/colors and label each book, or have students stock the books alphabetically. 
Clothing and Laundry Tasks
Fold towels
Have different sizes for students to fold.
Sort laundry
Create two baskets for students to separate colors and whites.
Fold t-shirts
Students use a folding t-shirt board to fold t-shirts easily.
Hang up clothes
Put t-shirts, pants, dresses, etc., in a laundry basket and have students hang the items up on a clothing rack.
Put away laundry (dresser drawers)
Use a three-drawer storage container to have students put t-shirts, towels, and socks away into the drawers.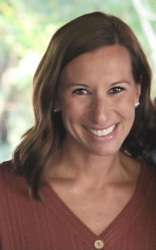 Latest posts by Ashley Linz, M. Ed
(see all)