Last month, I shared several vocational jobs I implemented in my classroom (check out my blog on Vocational Jobs in the classroom here).  In this three-part series, I am breaking those tasks down for easy implementation in your classroom.  Today, we will focus on stocking tasks, different ways to create the task, and supplies needed to put these tasks together.
Supplies Needed for Stocking Tasks 
3M small hooks

Lamination 

Wall, peg board, or bulletin board

Visuals for stocking 
Grab this freebie from Breezy Special Ed for the toothbrush, seed packet, gift card, and pen visuals.
Stocking Vending Machine Drinks, Candy, and Chips
Put one of each item on a hook and the rest in a basket.  The student can "stock" the vending machine items in the correct place.
Place all vending machine items on the hooks and create an order form.  Write a specific number next to each item on each order form and have the student fill the orders.  You can also level this by having order forms with pictures of the items or words.  
Stocking Toothbrushes, Seed Packets, Gift Cards, and Pens
Like with the vending machine items, students can stock the toothbrushes, seed packets, gift cards, and pens the same way or create order forms for students to fill the orders.  To make the task easier for a student, only put out a few items to be stocked rather than all.  
Stocking Grocery Items
Supplies Needed for Stocking Groceries
Empty food cans or boxes

Bookcase, countertop, cabinet, or desk

Visuals/labels for food items
Here is a great way to reuse empty food cans or boxes from home.  Find a space in your classroom, whether a bookcase, countertop, cabinet, or desk, and create a grocery aisle where students can stock the grocery items on the shelf.  Get a basket, box, or container and place a few items for the student to place on the correct shelf.  Don't forget to add labels/price tags for each item, like at the grocery store.  
Students can also find the grocery items from a "grocery list."  Make this into two levels by having one that is just pictures and one with words.
Another way to utilize this setup would be to have the students have a list of items to find and determine the next dollar amount.  This can easily be created for different levels as well.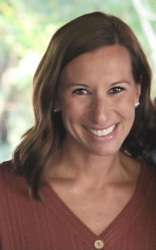 Latest posts by Ashley Linz, M. Ed
(see all)