Virtual Teaching and Home Reach
"You will get there, your kids WILL learn, and it will be ok."-TAH.  No truer words can be spoken, even if you are not quite to the point of believing them…YET.  You are a great teacher, look at you, you're here reading this blog trying to find new ways to help your students.  A non-pandemic school year is difficult enough with all of the things you have to accomplish to feel ready let alone with the situation we are all in.  The good news is, your students truly will still learn.  Is it at the peak of what you might use to be delivering? Probably not, but I'm here to say it's ok to let that guilt go.  Let's focus on what we CAN control.  I am going to show you a preview of a virtual structure, ideas for reaching those kiddos who are not attending virtually or in person, and what you can do for parents of children with little, to no virtual attention span!
My number one tip from my last blog was to create structure within your PowerPoints/lessons/flow. This allows you to be maximally efficient because you're not sitting there every day trying to figure out what should come next…and neither will your families!  If you stick with a similar schedule that you can carry out, come face to face person time you'll really be ahead of the game.  This video below is a snapshot of an amazing Pre-K 3 teacher I work with in our area.  I love how it's age appropriate, has a visual schedule (with disappearing pieces) and is similar to how she plans on teaching when we are back in person.  The kids have been incredibly responsive and have even started asking about the schedule and if they get to choose another "favorite" to share.  Check it out!
Home Reach
In our county, we are ALL virtual until at least September 28th.  Some parents have been worried about the virtual aspect as their child does not yet attend to a screen for that long.  We also have to be cognizant that we are still in a pandemic, that means lost jobs, healthcare crisis, and logging onto zoom might be a last priority.  It is so important that we still make an effort to reach those kiddos at home who are not participating virtually. Our county is smaller in comparison to others within the state so I know this may not be as feasible for some, however; I love assembling weekly bags and sending them home.  Our pupil service coordinator, counselors, CRTs and coaches have been very helpful in dropping things off at student's homes.   While materials for every child/classroom may be different, here are some of my favorites that I would send home.  I would map them out over a month so you can efficiently print and assemble priority items and get to others when you have time (I know I know, that doesn't exist). Batch working is so efficient, and chances are, multiple children, if not all could benefit from the same materials with some tweaking of the delivery/extension activities.  You could make a book a week/every other week and follow up with simple activities using things they already have in their home!  Below are some of my favorites!
Farmer, Farmer Adapted Book Series
Color Adapted Book Series
Easy Weekly Matching Workbooks 
Coaching Videos
I LOVE LOVE LOVE mini coaching videos.  They give parents the opportunity to view and revisit when they have the time.  Maybe you're doing a 1:1 session on IEP goals and there's just so much going on or the child isn't able to stay in one area so that you can observe.  Use that time to show the parent how they can read the adapted book you sent home and extend the learning using materials and toys they have in their homes.  Or maybe your sessions are revolving around pairing the kitchen or mini table at home so that they can start working on some tasks while sitting.  You can show the parent how to use reinforcers and bring fun items to the table to teach their child that this is where come to play activities.  Check out my video below and Happy Coaching!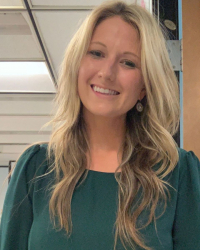 Latest posts by Gina Russell, B.S , M.Ed
(see all)