I may be late to the game, but I love QR codes and all the great ways to put them to use in the classroom.  Several years ago, I found an article about QR codes in the school environment. It was something I always wanted to implement.  I started small by incorporating them during my morning group, independent workstations, and direct instruction for easy access to frequently visited websites.  Once I began creating QR codes throughout my classroom, I had more ideas about how to use them.  Check out the ways I have incorporated QR codes and if you have a great way of using them, leave a comment below.
Staff Training
As special education teachers, one of our biggest challenges is finding time to train our staff. Create a quick video on a specific topic, take 10-15 minutes to share and explain the video, and post a QR code in the area that makes the most sense, allowing staff to scan as many times. QR codes save time, and you can utilize them when you have new staff members or a sub.  Here are some topics to be used for staff training:
Training on specific curriculum programs (how to use them)

How to take data

Student schedules

Small group instruction

Independent work

Using visuals

And so much more!
Video Modeling
Students won't be the only ones to benefit from video modeling. The opportunities are endless! Students can view videos on how to do a vocational task, such as loading the dishwasher. Staff can also watch the videos to know the correct way for a student to complete the job.
Other Ways to Incorporate QR Codes
Morning Group
As stated earlier, I use a QR code during the morning group.  Students scan the weather QR code to bring up the forecast for the day to aid in completing the weather section of their morning worksheet.
DLM Familiar Text and Lesson Planning
Creating access to the DLM familiar text for your students on the DLM makes for a quick way to transition to the task.  Also, include QR codes in your lesson plans for staff to scan and start teaching easily!
Social Skills Class
During social skills class, one of the activities the students work with alongside their peer mentors is looking up a current event, a joke of the day, or checking the weather. Having QR codes available to scan quickly and direct students to the website needed to complete the activity made it easy for all students to be independent in this task.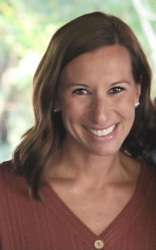 Latest posts by Ashley Linz, M. Ed
(see all)