Happy November!  As soon as the new month hit, I was ready to go with my November activities! I used to do these same activities in the classroom and now, while I still use them, I've modified a few for families.  I will be prepping the turkey headbands, schedules, and fall treats for families to enjoy on their own time. In person, we will work on the adapted Turkey book, fall plate activity and food matching board!  Check it out below!
Turkey, Turkey, What Do You Smell?
It's no secret that I love Sarah's adapted books.  It takes me a little longer to get to them these days because the kiddos I work with are so incredibly young.  We work on errorless activities and the adapted books can be a real challenge until they develop more skill, patience, interest, and task endurance!  I almost always start out with handing them the correct piece (i.e., errorless) or giving them a choice of two and holding it directly over the identical picture.  Most of the times, showing them the entire field of picture choices is just too overwhelming.  It may also be difficult for them to sit and listen to the reading of the whole page so do not feel bad if the first few times you're pointing out the picture you want them to match, labeling it, and showing them how to place it on the Velcro.  That's a lot of skill if you think about it!  The video below is a very short snapshot of just one page.  There was some getting up and moving in between this, crashing on to the couch, coming back and completing a page and some more running around! And that's ok! I was pleasantly surprised we got that far on our first try (also she is just shy of three years old). 
We also did some scribbling on the Thanksgiving meal activity page.  Next session I will have the pieces cut out for her and let her glue them anywhere on the paper plate I will bring! I used this page to practice some crayon fine motor exploration, she labeled the colors expressively and one of the foods (corn).  There's no pressure to label all the pieces, I used lots of modeling, and had she been a student with an AAC device, I would have found the pictures on it as well! You can find the Thanksgiving books here and the meal plate here.
Matching Activities & Food Visual Board
I used parts of The Autism Helper's Thanksgiving Party Pack to create a matching activity for my little guys and a mealtime visual board!  For the matching activity, I used the Thanksgiving headband visuals and made a double copy.  I kept it as a two-page matching activity however you could cut the pieces up and scatter them around the room and have them hunt for the matching piece! I love incorporating movement activities because motivation, regulation, and engagement support language! Also in the Party Pack was a fun Bingo game.  Since I am not at the Bingo level quite yet with my kiddos, I simply cut off the top label and will label it for my kiddos to use at their next holiday mealtime!  You could also use the Turkey Headband cards that I made into a matching game as a menu board for your students to use at home.  But now I just want to eat mashed potatoes… Find the Thanksgiving Party Pack here!
Last but certainly not least are these fun Turkey headbands and the Fall Trail Mix.  For my families, I will prep small little recipe bags so they can make the trail mix together! I will also include the party schedules in case they want to use them at home to complete the activities. These can also be found in the Thanksgiving Class Party Pack  If I were in the classroom with my littles again, we could use a good week to complete them all! Happy Turkey Time!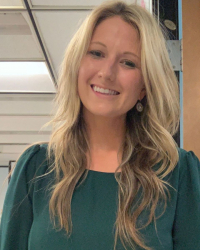 Latest posts by Gina Russell, B.S , M.Ed
(see all)