Several years ago, my building principal came to me with the idea of creating a classroom business.  The teacher's lounge had a vending machine with soda, costing the school more money than it could make.  Cue the Vending Cart! 
Setting Up
After all the logistics are figured out between you and your administrators, the next step is setting up your vending cart.  Decide if you are going to sell soda and snacks or only soda.  It is helpful to send out a survey to staff to get an idea of what kind of soda and/or snacks your building prefers.
Make a list of all the items you will need to get started.  
Here is a list to reference:
Clipboard

Money jar

Recipe boxes (keep punch cards and staff favorites)

Refrigerator for soda

Storage drawers for snack items

Money box

Visuals (label outside storage drawers and fridge, visual scripts for deliveries, etc.)

Caddy carrier

Hanging pockets for order forms
Share the Process
Once everything is ready, find time to explain the process to your building staff.  Explain how staff can purchase soda and snacks from the Vending Cart.  This is also a great time to pass out staff favorite forms to keep on file.  
Opportunities for Learning and Skill Generalization
Creating a business within my classroom opened the door to various real-world learning opportunities. 
Students can graph the sales of sodas and snacks each day (extend the activity by asking questions about what sold the most for the day or which one had the least amount of sales)

Community-Based Instruction – our class went to the grocery store each week to purchase soda and snacks to keep the vending cart stocked

Stocking soda and snack items daily

Counting money

Social opportunities when making deliveries

Building independence and learning to navigate the school building when checking for delivery orders

Communication opportunities
AND so much more!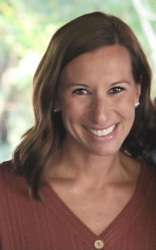 Latest posts by Ashley Linz, M. Ed
(see all)