Thanks to all the fun, themed TAH resources for summer, my kids are sure to be learning and working and not even realize it!  I couldn't wait to print off some of the popsicle and fish themed activities. Then of course my eyes caught the Summer Visual Recipes.  I plan to make the Sand Dessert Recipe with my in-home families and leave the Fruit Smoothies one for another day!
Popsicle File Folders & Big Little Sorts
As soon as I brought out these popsicle matching activities in the daycare classroom (two-year-old's) this tiny swarm of children formed around me!  They were so excited to try this activity!  If you have read any of my other posts, you will notice that I always mention that I do not always print and assemble every activity in a bundle.  I also do not always make them into actual file folder activities.  Instead, I will keep them as "one pager" boards because sometimes that one page is plenty! Especially with new and young learners.  In this case, I was able to hand one board to one child and one to another!  I also like being able to ask, "do you want to do this one or this one?" and give the child some choice.  They are always much more willing to try an activity if they've had some control in the situation! I do lots of modeling if a child has never seen a task like this and then hand them a piece.  While they match, I will narrate: "blue popsicle, big pink popsicle".  You can find these here!
My next plan with these materials is to introduce some patterns, sorting by color and some fish counting!  I got these fun little drink stirrers at the Dollar Tree. I couldn't pass up the fun flamingos, palm trees, and suns! They will double as stirrers for our fruit smoothie recipes in the coming weeks!  I also thought it would be a fun way to practice sorting by colors and object.  When you sort by color, feel free to turn anything into a visual sorting mat.  I like to do this with either the back of the file folder pages, or by making circles on a page quickly with a marker.  We assume that children know to put them into small little piles but that is a skill set that some kids may not yet have.  Giving them visual boundary will show the skill of sorting and deter some behaviors such as throwing materials or hiding them. 
Did someone say snacks?
You had me at visual recipe.  No seriously!  When I was in the classroom full time, I loved cooking with my kids.  I always saw SO much engagement and language opportunities when we did these activities.  Now I bring them into the home and make treats with families and it is so much fun.  Kids loved to be involved and these are safe, fun ways to practice so many different skills and communication.  Have you tried these recipes in your classroom? With the fruit smoothies I would love to tie in a matching activity leading up to it with matching real pictures of fruits and the materials we would use during our cooking time.  This is a great way to practice basic learner skills while also familiarizing the child on what things they will see during the cooking lesson! You can find these recipes here.  Comment below if you try any of these fun summer activities! Happy Summer!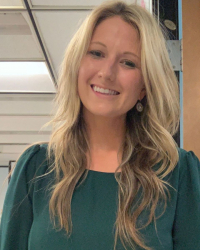 Latest posts by Gina Russell, B.S , M.Ed
(see all)