Swimming is a life skill that is essential for all children and adults.  It is a calming and therapeutic activity that improves balance, coordination, and motor skills development.  We want our children to be comfortable and safe in the water.  Check out the tips below to help your child in the water.
Teach Water Safety
Emphasize these important safety rules through the use of visuals and social stories:
Asking permission to get in the water

Swim with a buddy

Walk when near water

Wear a life jacket

Enter the water feet first
Swim Often and Practice
Just like with any other skill, repetition is critical to getting our kids to learn.  Going to the pool as much as possible will help your child feel more comfortable in the water, boost their confidence, and learn the skills needed to be a great swimmer.  If you can't get to the pool often, use a plastic or inflatable pool or the bathtub.  You can also practice the following skills without a pool:
Blow bubbles: Blow bubbles through a straw to practice this skill.  Children can also practice this in the bathtub by blowing bubbles in the water.
Arm movements: Play games on land using the front and back crawl arm movements.
Jumping: Place a rolled-up towel on the floor and have your child practice jumping over it to help them when jumping in a pool.
Breathing: Practice humming and taking a breath
Pouring water: Find a cup, fill it with water, and have them practice pouring it over their arms, legs, and head.
Make It Fun
Adding songs and games can help children remember the skills they are practicing in the pool and make it more fun.  Try these the next time you are at the pool:
"Simon Says" 

"Red Light, Green Light" 

"Ring Around the Rosie"
Get Creative
Cups: Using fun cups to pour water on their arms, legs, and eventually their head can help make water play more fun.

Small Snack or Storage Containers: These are great for filling up with "treasures" and having the child go on a treasure hunt in the pool.  Children can practice using their front crawl arms or kicking with assistance when they hunt for the items.

Favorite Action Figure, Doll, or Toy: Tap into your child's preferred interests and use those items in the pool.
Sign Up for Lessons 
Check out local swim programs to sign your child up for lessons to keep their skills fresh in the summer and year-round.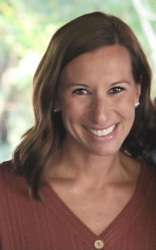 Latest posts by Ashley Linz, M. Ed
(see all)