I love structure.  I love it in school, and I love it as an adult in my life.  You probably use it way more than you even realize it!  Agendas during a PD? Yep, structure.  To do lists? Yeah sorry not sorry that's structure too.  I think sometimes when people hear the word structure, they automatically think super ridged and controlling.  Structure teaches so many amazing skills like following directions and routines, organizational skills, and thinking patterns.  It is not just Velcro visuals in the form of a schedule.  I'll never forget watching one of my students' progress through leveled curriculums which follow an organized structured pattern.  He learned how to navigate information and utilize an anchor chart because of the way the work is structured.  While the content changed, the structure and organization followed a pattern so he did not have to relearn a set up each time and could focus on the material.   Here we will look at different ways work time, independent centers, and integrated centers can be structured. 
Structured Work Time
This can be presented in so many differentiated ways based on the NEEDS of your students but here are some of my returning players.  Schedule pieces that match the area of the room where the student needs to transition to.  I have used real photos, Boardmaker pictures, and even Google images.  It all works if you model how to use them!
Mini Work Schedules
I use these mini work schedules to prepare students for what we are about to do and as my learning targets.  While each school may have different expectations for what they want as a learning target, I think these are very appropriate for three-year olds.  I would say, "Friends, today we will read our story, make a pumpkin, and write a sentence".  As the age and grade increase you would want to pair them with words, short phrases, or sentences and always tie them to grade level standards. 
Mini Work System Boards
As Special Education teachers we are the masters when it comes to in the moment decisions.  I once took a piece of yarn and cut it into three pieces because that's what I had in the situation.  When all the yarn was gone so was the work and it sure did work! Some students may work well with just a simple work task board (like the rocket shown here) and some may need even more visuals like what they will actually be working for (shown as the choice board with goldfish crackers and the trampoline).  
Independent Work System
Vertical, horizontal, no shelf, shelf, top of shelf, binder systems, laundry finished basket, whatever it is, independent work is a must.  Our kiddos have got to learn to navigate problems on their own and complete tasks without us.  Plus, I think it's a nice time for them to be successful without an adult right by their side.  You do have to teach these systems at first of course.  This next teacher I am about to highlight set ups from is Danielle Tingle. She works at an incredible special school that happens to be right across the street from me.  Danielle is a dynamic teacher who is always flexible and innovative when it comes to what her students need.  Check out some of her set ups.  As you can see the type of structure needed for these different students vary. I love that the students have work aligned with scaffolding objectives and grade level content.  There is no random work just thrown into the baskets.  If you have a student who has difficulty getting through independent work (hey this stuff is tough!) then make sure to have some reinforcer at the end.  No one wants to transition in gym class from push-ups and burpees to an 8-mile run (well most people).  Have something more reinforcing at the end like a $20 gift card and I will be able to finish.  I also love her checklist at the end.  This one pager encompasses a learning target "I Can" check off, a clear 3 work task pattern, AND a self-reflection! How awesome is that? Remember those self-assessment rubrics we try to hit as teachers with our students? Students will self-reflect. This one is built right in to teach that higher level skill.  At the end, the student will see through self-reflection if they followed their school positive support behavior rules or PAWS. LOVE IT.
Structured Circle and Integrated Centers Time
I find the more I structure centers with routines and visuals, the less behavior problems I have.  You will not constantly be triaging mini fires because the overall routine will be solid. I still physically close off my centers when they are not available and use a schedule within circle time.  I find that it also lessens a lot of non-compliance issues as it is not a teacher constantly telling a student what to do or not to go in area…the schedule or dividers are!  Center is full or need to encourage kids to explore other areas? Closed post its!  Super-fast and easy.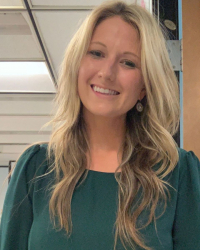 Latest posts by Gina Russell, B.S , M.Ed
(see all)