Spring is here! Whether it feels like actual spring weather in your area or not, it's time to unpack the colorful eggs, bunnies, and flowers!  I had the best time recently using several different activities with two of my favorite young learners.  We read the adapted book, "Bunny, Bunny, What do You See?", sorted colorful big and little eggs and then the finale…made Bunny Mix! Check out our little videos!
Bunny, Bunny What do You See Adapted Book
This book was so much fun to read, and it worked with both a fluent counter and a kiddo not yet rote or object counting past the number 3.  While the older student was working on the reading and counting out of objects, my younger kiddo could still participate by finding the correct animal and listening to the math part!  He also got to build some success by using the pictures to help him read.  If you are new to adapted books, I urge you to give them a try!  Depending on your learner may change the way you first try out adapted books.  With a young, brand-new learner, I may only use a few pages at a time and have either only one or two visual choices available.  Sometimes kiddos want to immediately pull all the pieces off the storage page and then run away with them, hide them, or swipe them.  It can be very overwhelming so do not feel like you must start with the entire book and all the pieces set out.  You can always build up to this!  Both kids were so excited, and the engagement level was through the roof…as you'll see in the short video clip below!  Find the book
HERE
.
Next up is this super colorful big and little egg sort.  I love using these types of sorts during circle time on the carpet and turning it into a larger motor movement activity.  If I have children who love to move, I will sometimes put the "Big & Small" heading cards a few feet away from each other, so the child must walk or run back and forth or move in some way when sorting.  Adding gross motor movements also usually increases language engagement!  This is another activity with many pieces so again, only use a few at a time to get started and increase the amount as you go.  You can extend this activity by sorting big and little objects within your home or classroom.  Check out the video clip below of the egg sort in action!  Find the free sort 
HERE.
Pretzels, chocolate candies, popcorn, and white chocolate? Yes please.  Oh, not to mention incredible visual steps and comprehension follow up questions. Enter in BUNNY MIX!  I think by now I have made every seasonal version of this recipe possible.  We had so much fun making this treat.  I have had the most success with both less chaos and increase in language engagement when I have initial control of the ingredients.  If we simply lay out everything needed to make the Bunny Mix, there would be no need for communication for our students.  I also like to play a bit of "confusion" where I pretend like I do not know to open the bag of pretzels first and purposefully not laying out a necessary ingredient.  We want our learners to problem solve and promote as many language opportunities as possible!  Visual recipes work on vocabulary, following directions, motor movements and coordination, and FUN. You can find the recipe
HERE
. Happy reading, sorting, and cooking!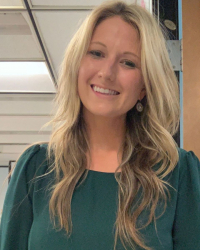 Latest posts by Gina Russell, B.S , M.Ed
(see all)