As soon as November 30th hits, I launch right into snowman and gingerbread house themed activities!  I have had a lot of requests for an early childhood lesson example and the following can be differentiated to older students as well!  If you have read any of my previous posts, you know I love Sarah's line of adapted books.  She has so many fun themed sets (and freebies) that go along with the seasons and holidays.  My new favorite is, "What is the Snowman Wearing?" and you can find it here! Check out the post below for some fun activity ideas and two free visual lesson schedules!
Adapted Interactive Book Read-Aloud
If you find yourself with young children or students who are not quite as engaged in traditional story time books just yet, adapted books are the way to go! I love this book because it works on some clothing identification and colors.  There are a few pages that are a bit more challenging because they have three descriptors.  For example, instead of having to visually discriminate just one color and one clothing item, a few pages have a color descriptor and two items of clothing!  This increases the visual and language demand so feel free to either skip those pages, or if you bind them with a binder ring like me, take out those pages until your students are ready.  Feel free to keep exposing your students or make it errorless by giving them the correct picture choice.  I also like to follow up a reading activity with a movement activity.  Dancing songs such as "Ten Little Snowmen" on youtube is a hit and gets those busy bodies moving AND counting!
Clothing Identification Surprise
Generalizing concepts is such an important skill.  When students read about a snowman wearing a scarf, I want them to know that the item that they put on at home is also a scarf.  I love bringing in real items that correlate with my lessons.  Stick some clothing pieces into a bag and you suddenly have increased your engagement tenfold.  You can play dress the teacher and have students take turns pulling out a piece of clothing from the bag, labeling it, and talking about where it goes.  Does the hat go on our foot? NO! This is such a fun game, try it with your kiddos!  
This sensory box made with "snow" (aka cotton balls) is so much fun and easy.  Again, we always want to think about generalizing concepts and I love moving materials around.  The snowman from the adapted book now appearing in a different element.  You can use this box to practice receptive language: "Find the snowman with the green hat" or expressive language:  children reach in and pick out a snowman, "What snowman did you find?".  Remember to use the child's AAC device if they have one!  As always, have fun with it and model how to reach into the box and pull out just one while taking turns. 
Now that we have practiced some language through a book, a surprise activity, and a sensory box, let's bring it altogether with a culminating activity.  Keep in mind that these activities do not need to be used in one day. This could span over an entire week, and you could re-read the book each day, adding on pages and then using the visual schedule at the end of this post to keep your group on track with the lesson activities you have chosen.  First, create your snowball background by attaching a cotton ball to a clothes pin or other clip.  Have your students dab the paint and them smoosh on the paper forming little and larger snowballs.   Make sure to have core language boards and devices present to support verbal language! Set aside to dry. Next, I found this free snowman template online from first palette (click here for the link to download).  There were also a few free color versions on teacherspayteachers that you can search for!  I liked the black and white version so that my students could color them however they would like.  After your students are finished coloring the pieces, have them cut the pieces out (or depending on scissors skills, this may be a part two activity that you help with cutting) and then glue them onto the fun snowball page you created before.  Check out the visual schedule PDFs I created here and here for a free download!
Check out the video below to see them live!  Happy lesson planning!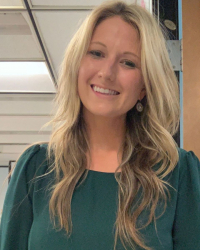 Latest posts by Gina Russell, B.S , M.Ed
(see all)