Last week during my takeover I received many questions on inclusion practices and co teaching.  Before my new pre-k3 program began, I specifically co taught in second grade for six years and then had a comprehensive classroom that serviced students in partial to limited inclusion settings.  For inclusion to be successful, you need to have the buy in from the general education teachers and the supports needed to help your students be successful.  My simple definition of inclusion is having general education peers and special education peers functioning, interacting with each other, and working in the same environment together.  While you may have to work up to this because of behaviors or lack of supports in the beginning, it is definitely possible.  I am fortunate to work with a very flexible general education teacher in the afternoon PreK 4 classroom.  While my colleague is extremely welcoming and accommodating, it has taken time and tons of trial and error to figure out what our kids needed in order to function in this new, crowded environment!  I also think it's very important to think about the factors that you cannot control (ie: students on and off medication, not enough staff, supplies) versus the ones you can (your own attitude, beliefs, and work ethic).
Structured Worktable
Recently, I have had no other choice but to streamline supports in order to be as efficient as possible.  Pre-k classrooms are required to have so many things in classrooms; centers, circle time areas, snack, worktables, materials, play areas etc.  We started misplacing visual boards, work tasks, behavior plans etc so we had to figure out a more efficient way.  Additionally, our students were displaying behaviors that required more structure and organization.  Enter in my new structured work area!
What I love about this area is that it's in a central location, it can be manipulated to change for the AM vs PM classes, ALL peers can utilize this space, it lessened the need for so many transitions within the room, and provides a safer work space because of all the Velcro.  Everything is one space so that you do not need to get up and find a visual or supplies because we all know what that can lead to…maladaptive behaviors!   
I created the above structured work mats because my students needed multiple supports and the amount became cumbersome and we began misplacing them, they were being swiped off tables, and it was just not working! I decided to take a close look at the supports needed and combine them into one useable visual.  I created this in Boardmaker Online in separate pages and then printed them off separately and applied them to a bigger sheet.  I then laminated them along with their names and pictures so that it provided even more visual structure.  I wanted the work mats to be simple and to the point.  While our students use additional modes of communication, I thought of the three main core words that could be applied to many different tasks and lessons:  want, help, and more.  I have Velcro on the backs so that they are secure on the tables and can be removed for the morning classes.  Two of my students carry these to different worktables while one student stays at this one table while other kids transition in and out.   These can be easily duplicated to fit your student's needs and does not require Boardmaker! You could easily use actual photos of the child for the behavior visuals or online images. 
On the ends of the tables there are strips of Velcro that help secure work task boxes to the table.  Again, we had to eliminate the possibility of the actual box being swiped off of the table and this has been life changing!  While the pieces can still be thrown, it at least eliminates one barrier.  This is the perfect space that children can work in during less structured and engaged times such as a longer circle time. 
Storage
My co teacher and I found one spot in her room that we could stack and store work boxes and file folders.  We switch them out as needed however they can always be found in this spot!
Helpful Communication for Lessons
Our wonderful SLP came up with these all-inclusive core boards with fringe.  The fringe strips include school supplies (so glue, scissors, pencil, etc), colors, body parts, numbers, and clothing.  These come in handy during lessons when you may not have every specific label available. We are able to reinforce so many concepts in the moment using this simple board.
 I really love how this work area turned out and how multipurpose it is!  Happy structuring!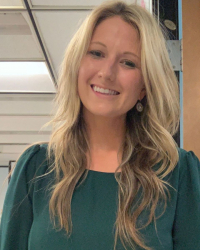 Latest posts by Gina Russell, B.S , M.Ed
(see all)