The weather in Maryland is turning chilly again so what better way to keep active learning engagement than with presents, cookies, and themed books! There are so many ways to differentiate and extend the following activities so do not feel like you must stick with this just these suggestions.  I also do not want to make you feel like you need to run out and buy cookie decorating kits!  Lots of options so let's get started!
Adapted Present Book & Size Sorter
If you know me as a teacher, you know I love setting the stage with adapted books.  While this doesn't have to be used in a whole group setting, the number of skills and engagement within these books is incredible.  You can work on difficult skills using these adapted books and kids do not even realize they're doing work!  This specific book works on prepositions and here at The Autism Helper we like to put extra pieces of Velcro in different spots to ensure we aren't prompting the answer.  After reading this book, you could take a wrapped box and practice these prepositions to support generalization skills.  Your students can take turns following directions using your verbal prompting and/or make up their own preposition phrases!  Find this book HERE.   You can then follow up this activity with the big and little present sorting activity.  I like to model the concept and task first if it's the first time my students are working with sorting by size.  Find this activity HERE.
Pretend Cookie Decorating & Play
Let's be real. I love anything that is remotely linked to cookies (as do a lot of kiddos).  This activity can be differentiated even past the two levels it already comes with!  You could simply give your student the toppings with no direction cards and have them decorate the cookies (errorless learning).  Next level would be the Level 1 cards and then Level 2.  As with most of my learning activities, I like to switch up how they are used and extend the materials.  Take the decorated cookies and pretend to bake them by having your students place them on a cookie sheet with a kitchen spatula and into the oven (aka repurposed box)!  I like to pretend that they're hot, scoop them onto plates and pretend to eat them serve each other (hello, conversation skills)! See the pictures below!  You can find this activity HERE.
If you have ever done any type of cooking activity or food related activity, you may have noticed a huge increase in language and again, active engagement.  I love decorating cookies and gingerbread houses around the holidays but do not feel like you need to go out and buy a cookie decorating kit like the one you see here.  You can easily make your own batch, find some at your local store premade or ask for parents to donate packaged store-bought cookies.  If you're not allowed to use real food during activities because of COVID, use some play doh and make your own toppings by rolling, stacking, stuffing, and flattening! This is all about encouraging and modeling language, taking turns, following directions, spontaneous creativity.  I like to model language out loud and using core language boards and student devices as I decorate my own cookie.  Additionally, you can model an example of decorating and then narrate and comment as students make their own! You can say things like "Mmmm more RED icing", "three shakes of sprinkles, SHAKE SHAKE SHAKE".  Your students could also describe their decorated cookie afterwards…that is if they can even wait to eat it! I like to go beyond that carrier phrase "I want" for everything.  Switch it up!   I made some visuals to go along with the cookie decorating activity HERE.  This PDF was made using photos I took of the actual items I had. I simply took the photos, air dropped them to my computer and used Power Point to format them and add text.  I then used the "export" feature to make it into a printable PDF file.  You can easily duplicate using images found online or your own photos.  The pictures do not necessarily have to match your items exactly, for example, if you are using icing, sprinkles, and some type of cookie, you can still use the PDF I created! If you are more into decorating mini gingerbread houses, check out my post with free visual boards HERE. Happy decorating!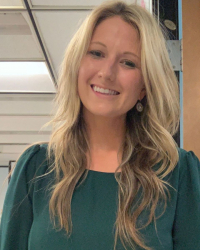 Latest posts by Gina Russell, B.S , M.Ed
(see all)