Classroom set up can be so incredibly overwhelming at first (or maybe throughout).  It sure does feel good though when you have the shell of it complete and the flow feels right.  My first piece of advice is to list out the must haves in your room. For example: a circle time area, all the centers you are required to have, cozy corner, cubbies for belongings, and a work with teacher area(s).  Next, comes the non-negotiables which are the things that are not going anywhere such as maybe a TV on a certain wall due to outlets, doors/exits, cabinets mounted to the wall etc. I like to make a rough sketch of the room and you could even color coordinate the things that cannot be moved so you can work around them.  Then I like to think about the "flow" of the room.  I like to have cubbies (if moveable) near the entrance so kids can automatically unload their backpack and jackets, and then the schedules nearby to check upon arrival.  I always like to stress that you do NOT need to have a million things out on the shelves at first.  While we are a pre-k validated school and are required to have many things out, you do not have to start this way. Most kids coming in may have never been in a structured setting before.  You will have to teach routines and what to do during centers, circle time and work with teacher.  Sometimes the more stuff, the more chaotic it can feel.  It just truly depends on your kids needs as to how much you can start with.  The following pictures are from my previous early childhood classroom as well as a colleague's current set up! 
This is a picture of my previous classroom, and it was quite small (faculty lounge turned classroom) so it always felt a little crowded trying to house everything.  I never had a teacher desk because I just did not have the room for one, so I opted for a skinny and tall table for my computer that was connected to the large TV.  Remember how I talked about non negotiables? This TV had to be on a huge cumbersome stand because it was too heavy for the wall to hold. So, I had to always account for it in a corner space…near an outlet! Underneath was a circle time schedule which was a lifesaver.  My kids knew what was coming next and that when all the pictures were gone, it would be time to move on to the next routine! I loved having the kids come up and take each picture off as we completed the activity. 
This teacher was able to have her TV hung on the wall and has a nice area for some anchor chart paper instead of a whiteboard space.  She also has one of the large core language boards that she can easily access during her circle time.  This board was made at Staples on a foam posterboard.  She has a place for her cube chairs so her students can easily access them and bring them out to create their space.  Sometimes you may find that a student picture on the back of the chair will help with that receptive direction of finding chair!
Center and Work Area Ideas!
As I talked about above, you must do what's best for the current class of children you will have this year.  If you are new to this group of kiddos, start with less, you can ALWAYS add more as you need to.  It's easier to add it on then to take it all back off the shelves and pack back up for a bit.  What centers do you like for your early childhood classroom? Do you change the theme with different seasons?
This area was multi use because again, we were in such a small space and had so many required centers.  In the mornings, kids could sit here to eat breakfast, during centers it was the Art area (materials under green fabric on shelf), and at another time it was a work with teacher area for my educational assistant!  We had a basket that had picture schedule cards on the out of it that we could easily swap so that they could match their tag to the picture and know what was happening at that time! Happy Back to School Set Up!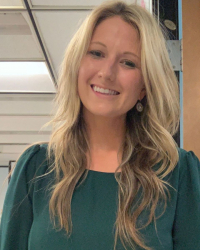 Latest posts by Gina Russell, B.S , M.Ed
(see all)