As I write this I have to laugh because my first day of school last year was probably the worst one I have ever endured.  I had been working so incredibly hard all summer to create a new space for our first ever Pre-K 3 inclusive program.  I had it all. The perfect borders, the most beautiful schedule wall, a solid tentative set of activities, fresh markers, a clean carpet, and everything seemed to be lining up well.  Of course, I was also incredibly stressed out trying to flip a faculty lounge into a safe and welcoming space for three-year-old kiddos so when I began to feel a bit unwell, I brushed it off as nerves and working too hard. Fast forward to the Saturday before school and I was in the hospital with severe Salmonella poisoning (I'm going with the fried sandwich next time).  The thought of making a substitute come in on the first day of a brand-new program was even worse so I powered through.  It was pretty much a blur, but I do remember sitting in a chair drenched with sweat trying to console a crying little.  When people saw me, their eyes grew large and concerning, commenting that I looked, well gray.  My point is…I learned a lot and the year can still be AMAZING.  So here we go!
Function & Safety
Before you even worry about what cute pictures you want to post online, think about the function and safety of your room.  No matter what age you have, take a good look and make sure you have set it up to accommodate the amazing kids you are about to have.  Of course, you might need to make changes later based on needs, but the skeleton should be solid.  Are exits accessible but not a free for all run if you have elopers or very young children?   Outlets covered? Do you have a plan for walking in the hallways, transitioning in your room and using the playground (which PS I did not do for about three weeks for fear of children running towards the woods)?  Are materials out of reach for now?  I had these beautiful shelves FILLED with amazing materials and circle time fun.  Not a good idea for the first few weeks.  New kiddos who have never been in a school setting tend to just take whatever.  Cover it up or find a new spot for now!  Our school uses radios, make sure they are charged, labeled with the staff member and ready to go on the correct channel.
Extra staff
I know.  You are thinking, ha, "extra" staff that's hilarioussssss Gina.   Well before you throw tomatoes at me if you think you might need extra help that first day/week do not be afraid to ask ahead of time for it.  You would be surprised at the amount of people who are willing to help.  That first week I grabbed any human being who was a breathing adult and made eye contact with me.  Our local Judy Center ladies were AMAZING and stepped in to help direct students and buses. You cannot be everywhere at once and if you have kiddos who need help physically getting off the bus, finding your room then you will need extra help.  Before you ask admin, have a clear plan of need: ie: Clara is in a wheelchair and comes in 20 minutes later than everyone else, could Suzanne help at this time?
Transportation
This area is handled differently in all schools.  We get a tentative list in the beginning and small children have bus cards with their name, bus number, and address.  The reason I mention this is because there is nothing worse than not knowing where a student is or what bus they need to get on when it is already a busy time.  Breathe and know that there will most likely be changes, allow for EXTRA time when packing up, getting in a line and walking outside.  Our school also lets the much younger children have a head start when going to the buses, so we are not run over by eager third graders.
 Activities
Schedules and activities are going to be so different for everyone.  You might be very familiar with your returning class, be at a completely different school or have brand new kids.  Either way, make sure you have an appropriate schedule posted even if it is very short for the first week.  If you have multiple assistants and staff in you room, create a tentative schedule for them as well and set expectations.  Hopefully you will have a short meeting for training before school starts!  For at least the first week of school my schedule may look like this:
Arrival/unpack– Show your students where to put their things, check their schedule
Breakfast/Choose time– I like to have some toys that are just for "choose time". Baskets with some books, a few baby dolls, dinosaurs and cars. I made the mistake of having my centers physically open last year and it was a chaotic mess!
Circle time/Morning meeting-Whichever is age appropriate for you, plan an engaging whole group meeting time. I love to incorporate movement activities and an online book with songs.  Most will be anxious so having a time to dance around or listen to a familiar book will be soothing.
Work with teacher- Do not panic if you do not include this with super young children for a while. If you do decide to try and get kiddos to sit at a table, plan fun easy activities such as play doh, easy puzzles or other hands on toys (see my post here).    
Center exploration- This section also makes me laugh because I had way too many toys out last year and I was so sick that I did not have the energy to address this tough area. There were toys everywhere and it was a free for all.  Put only a small number of toys out at a time and if you need to, physically close off the area until it's time!
Snack
Toileting, packing up, choose-I combine these together as you need to keep those kiddos engaged while you are packing up, helping with toileting and not losing anyone. Bring out those basket toys again and call kiddos a few at time to put on their backpacks. I make sure to start with the kiddos in diapers and safety harnesses or whose buses come earlier. 
Buses- Have multiple lists created that have student names and bus numbers.Have staff assigned to specific children and set expectations of hallway behavior before walking out.  I used a walking rope with my littles, and it was a lifesaver!
Last tips
Those first day jitters are inevitable so do yourself a favor and have everything laid out and/or packed the night before! Nothing is worse than running around late the morning of and arriving already nervous.  Have an outfit (or three) chosen, your lunch packed, water bottle filled, bookbag in the car (with gas) or anything else you will need.  I even have a little self-care bag filled with dry shampoo, mints, a brush and even an extra shirt.  It feels great to freshen up if you have a moment!  If you are brand new to your school, make sure you try and reach out to someone and do not be afraid to ask for help!  Even if you eat your lunch cold while sitting in the parking lot at 6:30 pm, it will get better.  So a friend told me.  Happy First Day Planning!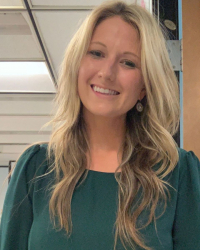 Latest posts by Gina Russell, B.S , M.Ed
(see all)