As an Early Childhood Special Education teacher, I am responsible for child find referrals and students transitioning from an IFSP (Individualized Family Service Plan) to an IEP (Individualized Education Plan).  Thankfully, we have an amazing Birth to Three team called the, "Infants and Toddlers Team".  They are wonderful at keeping me in the loop throughout the year about 2-year old kiddos about to turn 3.  Regardless, it is inevitable that between child find referrals and transitioning kiddos, I will always be getting new students.  Here are six tips that I live by (and need to remind myself about) when getting a new student. 
Tip #1- Preparing Structure and Visuals
No matter what, until you actually get your new student you will never REALLY know everything they will need.  You make recommendations based on reports, observations from in home service providers and the parents but being in a classroom or program for the first time is so different.  You might need to make different recommendations as you get to know your new student but overall there are a few things I make sure I have and do before they arrive.  I always offer a pre-site tour/observation. You have to remember that this is someone's baby…and almost literally. This might be their (and their parents) first school or program experience and that can be scary!  Allowing them to see the room beforehand and giving them some private time to express questions and concerns can be so comforting. 
All my students use a picture schedule (or object type/whatever needed) and they each have their picture on the top and the bottom.  I work hard to get parents to send these pictures before they start so that when they walk in on the first day or on their private tour, they can be comforted by seeing their picture!  When they come in, I like to say, "can you find your picture?! Where is *name at?!"  I post their pictures in their cubbies, my center choice picture bag, and I now have a "my turn" board for circle time.  I make extra copies in case I find another spot where they might need one.  If I am not able to get a picture of the student, I will print out a picture of something they love such as Minnie Mouse or Peppa Pig for their schedule.  In the beginning, you want them to identify where they need to look and that works just fine!  Additionally, when you're making copies of your class expectations letter, about me, etc, make extra…. you know you will be getting more students and you won't have to do these later!  
Tip #2-Pairing aka Chocolate Chip Cookie
Confession.  I did not do a great job of this at first with my last new student.  In my head, my classroom was on roll!  We were calm, had routines down, organized, and just had it going on! How could a new friend not possibly think this was awesome?! How could they not find making an abstract Christmas tree fun? And my circle time! It's so engaging, surely, they would want to sit in their cube chair and do all the dances! WRONG.  So wrong.  There is nothing like a little tiny soul to remind you that this is all very new, overwhelming, and scary.  I am not going to lie; the behaviors threw me off my game a little and I had to stop and take a moment to remember that maybe I was not a chocolate chip cookie quite yet.  I went back to a technique called, "Pairing".  You can read more about it here however in a nutshell, it is when you make yourself a reinforcer.  You want to establish yourself as someone that the student enjoys coming to.  So, if you are seeing a lot of resistance to work with teacher tasks, circle time, etc, you must read this article!  Oh, and don't take it personally like I did. I was crushed.  You really have to think about what this little kiddo is going through and change!  If you are super new to The Autism Helper and have no clue why I mentioned becoming a chocolate chip cookie, read this article here.
Tip #3- Joining Your Classroom Community
"You can sit with us".  No but for real. I try so hard to think about what it must feel like as a parent to send your little one off to the Big School, let alone one who may be non-verbal at the time, so tiny, not toilet trained yet, etc.  You want to make sure you are welcoming this new family in with open arms, even if they may seem stand-offish at first.  We have NO idea what this family could be going through, a new diagnosis, a shift, worry, and the list goes on.  I love using Class Dojo because I do not have to give out my personal cell phone number, yet I have access to private messaging and picture sending.  If you haven't tried Class Dojo yet, look it up! It's amazing!  I make an announcement on class stories using Class Dojo and welcome the new family. In the beginning of the year, I make an "Our Class Album" and as we get new students, I add their picture and send it home to families.  Not only is this a great way to connect parents with their kids and ask questions about their classmates but it works on greetings!  I have seen a huge increase in my kid's language skills from using these books.    
Tip #4- Don't Forget Others
Each school and program are different, however thankfully my littles are able to attend specials and have the opportunity for free breakfast.  We have to remember to give those staff members a heads up that new students are coming so that they have enough materials, chairs, etc!  I type up a little note and hand it out to each person.  I also disclaimer by saying that we will be learning together as we get to know the new students.  On the note I include a little picture, and blurb about current language needs, structure, and likes/dislikes. 
Tip #5- Low Demand
The pressure to get everything accomplished, every standard met, routines in place, activities for the bulletin board finished, all the toileting, hats, scarves, and safety harnesses on and everything else can be overwhelming.  In your mind, you are still going 1000 mph thinking of everything you must complete.  You owe it to your new student to keep the demands low.  And what we think as a low demand may still be very high.  When I know I have new students coming in, I plan with a lot of flexibility.  I may still have my "normal activity" planned however I l also have a lot of extra low demand activities from play doh, put in task boxes, errorless file folders, and preferred objects.  Sometimes just coming to a table is a very HIGH demand.  If I have a brand-new student, I may have a preferred object at the table and that's what they will be doing…learning to approach the table and stand there.  I even let them come and go for a bit, reinforcing them heavily when they do come back.  It can be so difficult because in my mind I'm thinking of the hundreds of things that need to be finished. In the end if your student does not enjoy you and your classroom, you will see a lot of maladaptive behaviors that will really stop you from "getting things accomplished".  Take the time, it's worth it I promise!
Tip #6- Grace
Yeesh.  Still working on this one.  Grace, as in give yourself some.  Things are not going to go as planned, or they may day one through three and then it feels like it's going south.  I am here to say that you WILL get there.  Keep with your routines, positive praise, and data collection if you are seeing behaviors start to peek out.  You will get there, your kids WILL learn, and it will be ok.  If something is not working give it some time and then regroup and make changes where you need.  Repeat things that go well like a fun dance or song during circle time or some extra play time.  You've got this!  Happy Welcoming!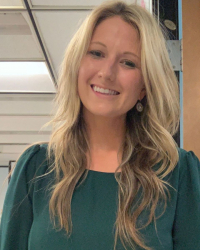 Latest posts by Gina Russell, B.S , M.Ed
(see all)