Now is an excellent time to stock up on classroom supplies. With the holidays coming up, you can find several sales occurring within the next month. Here are some of my favorite and most used must-have items.
Laminator and Lamination
Laminating your materials will keep them sturdy and give them a much longer life.  A day rarely goes by without using the laminator.  Of course, you can't have a laminator without lamination.
Velcro 
Once we laminate our materials, we always need velcro to keep our items in place.  I love to use velcro dots and strips for an easy way to move and store items.
Command Strips
These are great for hanging various items in each student's work area or putting them on the wall to hold vocational tasks.  I love to use command strips for hanging up clipboards for easy access to collect data on students' independent work.  
Paper Cutter
Seeing a perfectly cut laminated icon is so satisfying, and I can't do that without my paper cutter.  Not only does it look so much nicer, but it also saves time by cutting materials quicker.
Shoe Boxes
I always need more shoe boxes in the classroom.  Use them to store classroom supplies and set up a student's structured work area.  I also love using shoe boxes when creating independent work tasks.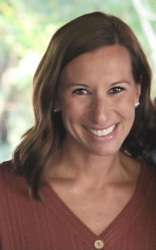 Latest posts by Ashley Linz, M. Ed
(see all)