My have we come so far in our circle time routine.  It has also changed multiple times because of student needs and an increase in technology available to us.  We started the year with a very dusty, crusty, skipping cd player.  It left me with major anxiety daily as I fumbled with the cds that refused to play.  My new interactive TV really captivates maximum engagement during circle time, so I really focused on making it a powerhouse of our day.  I plan out a schedule that incorporates a standard shell and I change the activities within it.  Each week we are practicing a new letter (or repeating one), a math concept, other basic learner skills, themes and holidays.  I also have a "circle time basket" that holds hard copies of activities that go along with that day and extra things in case the internet is not working that day.
General schedule:  Say hello, calendar routine, movement song, language arts, *hands on activity, math, movement, basic skills.  The kiddos check their schedules, match it to the wall board and take out a cube chair to sit.  We then immediately stand to sing "Hello/Hola" from Go Noodle! My kiddos are OBSSESSED and it's such a fun song!  If you do not have an account go create a free one immediately!
We then run through the days of the week with the Dr. Jean Addams family song and then use the free interactive calendar on Starfall.com.  We use a pointer and funny robot voices to say the days of the week, count to the number through stomping or raising the roof with our hands and talk about special events coming up! 
After the calendar we usually focus on the letter of the week.  I play all of my interactive tv videos through "watchkin.com" as it is a safer way to view online videos and with less ads.  Some of my FAVORITE channels are: The Singing Walrus, Jack Hartman, Storybots and Seasame Street. 
I have seen an increase in skills because of my circle time.  As the morning goes on my kiddos can get super tired (hey they're only 3!).  I love knowing that even if the rest of the day is difficult, our circle time was super strong, and they have practiced many important skills!  Circle time also is huge for imitation skills! I love to see how far they have all come. One last helpful tip: I have a general word document with the main links in case I am ever out for a day. The substitute can easily copy and paste or click the links into the web address box! Happy maximizing your day!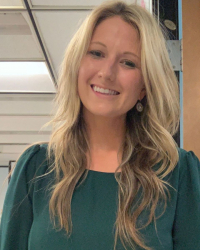 Latest posts by Gina Russell, B.S , M.Ed
(see all)