Making Data Collection Quick & Easy!
The beginning of the school year was such a whirlwind.  I feel like after the holidays is a great time to take a close look at your classroom.  How is everything functioning (truly)? Do you have a good flow or are you constantly putting out fires?  Is your data collection system efficient or collecting dust? I like to look over my programs and data to fine tune areas.  Collecting data can feel like a beast at times, especially when you have multiple students. 
Two areas I wanted to focus on are my visual schedules and work task completion.  It can be easy to say things are improving (or maybe not) but having actual data is important!  Thinking about the number of students checking their schedules can be overwhelming. How are you supposed to take data on all of them as they busily enter the room, or you have 12 tiny humans approaching the board at the same time?  And work data? How do I even break down those steps and collect data?  
I was so excited when I found these already created editable data sheets. They were perfect because I can collect multiple days' worth of data on one sheet!
Picture Schedule Data
I take data on my kiddos with schedule IEP goals.  To make the process as easy and accessible as possible, I simply printed out the data sheets and hung them on a clip board right next to my schedules. I can easily find each individual's data sheet and make a quick circle.  If it's not easy and available, you won't use it!
This process also highlights how many prompts you are using. Sometimes we get stuck in over prompting.  Sit on those hands!  I also love how the bottom of these sheets has a total column, so you can quickly see how they are doing in each area of schedule checking.
3 Drawer Bin Work Station Data
 Another area that challenged me in the area of data collection was actual work tasks.  There are so many steps that go into teaching children how to complete a task (especially at 3 years old!).   
Just like with the picture schedule data collection, I keep one of these amazing data sheets right in my work task area. 
As of right now I am sitting behind my students as they work one on one (they like to run off at this age).  This data collection sheet has been such a game changer. I can quickly take data as they are completing a task.  No more trying to remember how they actually performed.  When I write IEP goals I also like to use 4/5 as a trial period.  Each of these data sheets come with at least 5 rows making the mastery criteria very easy to see!  You can find these specific data sheets here.
What areas are you focusing on for data collection?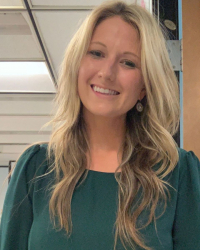 Latest posts by Gina Russell, B.S , M.Ed
(see all)