Using The Autism Helper Curriculum has been a lifesaver for the classroom.  The versatility makes it worth every penny.  Here are a few ways I have used TAH Curriculum in my classroom. 
First Things First
Whether you purchase one subject or multiple, finding a way to organize the materials is the first step.
Although it is a LOT of paper, I print off all the levels, store them in a file folder, and place them in a hanging file folder in my file cabinet.  I label both the file folder and the hanging file to make for easy access to grab and copy when needed.  I usually print all the units for each student at the beginning of the school year.  It saves me so much time during the year by having it set and ready to go.  I store each student's curriculum in gallon-size Ziplock bags, labeled, and keep it all in a basket in their work area for quick and easy access.
Using TAH Curriculum in the Classroom
TAH curriculum is easy to use.  Either you use it for students who can work on it independently or use it with students during direct instruction time, and it makes for little to no prep time for you.
Independent Work
I incorporate the TAH curriculum into their daily workbox/work folder tasks for students who can complete the worksheets independently.  With a structured system in place, this allowed me to check their work later in the day.  The worksheet was reviewed and corrected during our direct instruction time if the student answered any of the items incorrectly.
You can also set up a system within the student's general education classroom.  If the student can complete the worksheets independently, I use a folder system in the classroom for the student to complete during independent work time or classroom centers.
Direct Instruction (1 on 1 with para or teacher)
Incorporating TAH curriculum during direct instruction is simple and easy.  TAH has done all the work for you, and now you get to do what you do best: TEACH!  In our structured teach setting, students had work tubs or folders assigned daily during our direct instruction time, creating a routine and, once again, little to no prep for the next day.  All you need to do is grab that basket, find the bag with that subject, and place the next sheet in the tub or folder.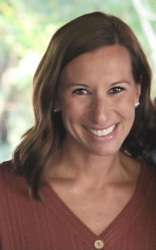 Latest posts by Ashley Linz, M. Ed
(see all)