Limitations.  Limits on resources, space, assistive technology, and above all MANPOWER.  As teachers we face limitations on so many things that we desperately need access to in order to maintain a classroom.  That manpower though.  More than ever our classroom sizes are growing and so our kiddos' needs.  It can be hard enough to run a general education classroom with one teacher let alone inclusion or a self-contained room.  The more severe the needs, the more resources and manpower you need.  And let's be honest, it just isn't always available.
While you may be envious of the classroom who has a small teacher to student ratio, just remember that those adults are in there for a reason!  Those student needs are much more significant and require those adults in order to maintain health, wellness, safety and support.  However, what if you have moved to a new school and you do have those severe needs students but just do not have the help that you need?  While every case is different, there are some general tricks you can use.
Advocate for yourself and your students!
It can be so easy to get stuck down the rabbit hole: "I don't have this, I need this, they don't know how hard it is, etc".  But take a really truthful look. Have you advocated for your classroom lately or ever?  If you feel as though you need an additional person for example, set up a proposal. I have found that administration and supervisors are much more willing to listen when you come in with a plan that also has several possible solutions.  Define your classroom, your need, what times you would benefit most from having this additional person, what they will be doing, and the reason for the need. While many schools run into the funding issue, there may be an assistant that is not as needed on recess duty and could cover a crucial time in your room.  Have data of a safety issue happening? Include that for sure.  Sometimes administration may truly not understand what goes on in your classroom.  Invite them in, and not to complain but to highlight the areas where you could use some extra hands. Sit down with your schedule and see where the gaps are.  Going in with only a long want list and no possible solution will not get you far and may even hurt your chances in the future. 
Example:
Teacher: Gina Russell
Classroom: Pre K 3 Classroom
Students: 13, 5 models, 8 students with significant needs
Times of need:  8:05-8:15- Bus arrival time, 10:15-11:00- Work with teacher, toileting time, 11:00- bus dismissal
Safety. Look at what you do have and restructure
So, you have 14 students and only two people.  That is TOUGH. I have been there, and I frequently have sweating nightmares of someone actually being sick or needing to take a personal day and you're down a man. Take a look at your room and evaluate how safe it is and when and where your major problems arise.  While I have students, who are known for eloping and have other unsafe behaviors, the solid fact is that there also only three years old. That is terrifying enough in itself! When I was designing my room (which I have now rearranged) I made sure to order safety covers for the door handles, create small barriers around open areas and cover electrical outlets.  This at least creates a slow down for elopers and keeps small hands safe.  Another tip is to have another colleague come in and take a look.  We often become so involved and attached to our original design that we cannot see different options.  Recently I got another student with behavioral needs and I called in the help of two other outside eyes.    Not only did they help me create more space, but my classroom became even safer.  Each placement of a divider can be pulled out to block off or open a space in seconds flat. Did I have major anxiety watching someone else move furniture and suggest something new? Heck yeah! I can tell you now I'm sure glad I sat on my hands and went with the flow though!
Maximize
So by now you have put in your proposal and set up a meeting with admin, you have rearranged some furniture and made your classroom safer, now think about maximizing.  I feel the best when I'm being efficient.  Now I've done it.  I've gone down the rabbit hole of Pinterest worthy classrooms drooling over the matching chevron bulletin board and wondering how in the world they keep that couch so white.  Go there. But don't stay there.  Maximize each of your areas and use them for multiple reasons.  Make a list of schedule times you would like to accomplish (ex: work with teacher, centers, circle time/meeting, cozy corners, etc) and then look at each of your areas.  There's no rule saying that your circle time area can't also be the place to use choose time toys or a center time basket.  Break out those visuals and teach routines and now you have made that one area into two or three functioning spaces.  We use my green work with teacher table for breakfast, snack, work, and indoor recess activities.  I have a basket with several pieces of Velcro and I can easily switch out the visual tags if someone needs more structure.   Have materials ready in each area or in moveable carts that you can quickly roll out. I envy the classrooms that can just leave out supplies however with this class I cannot. Everything is covered but accessible and I'm ok with that!
Do it twice!
I learned this tip from Sasha.  If it works, do it twice.  Hypothetically that additional person still has not been assigned to your classroom. Your proposal might actually be acting as a coaster at this point in the office but that won't stop you.  Find a time that IS successful in your room and do it again.  I have had to take a major step back from what I was doing now that I have a new friend.  I removed myself from work with teacher and went back to reteaching centers.  I have also entered in a second circle time because that is when I can really get everyone in one spot and feel like I'm teaching.  We do a bunch of interactive songs, work on counting and our ABCs and get those wiggles out! I was not being successful with trying to have two working groups and centers.  Maybe in a few weeks.  If you find yourself alone or with just one other assistant, repeat that morning meeting and make it for the afternoon or create a movement break for your kids. If your kiddos are older and a little more independent with activities, create more centers or game groups. Group your students by interests and have a few working on listening activities while you pull a few for activities and work time.  Sasha and Holly have some incredible ideas for this here and here.
Donations
Not enough resources? Spending all of your own money?  Think DONATIONS! I cannot tell you how many times people want to just give me things. Get on Facebook and ask if anyone has any of the following (shelves, tables, trampolines).  You know there are tons of moms out there willing to give away their kiddos quarter used crayons or old toys.  You could also ask your admin if you can send out an email asking for staff to bring extra stuff from home.  My next favorite thing to do is create a free account on DonorsChoose.org. I have gotten so many amazing resources for my classroom through this incredible program.  You would be surprised how many strangers are willing to donate to your classroom. After I create a listing, I post it on social media just for advertisement.  I have never bugged people or been pushy, people are just very willing to help. 
Last takeaway tips!
Here are some random tips that have helped me so much over the years:
A walking rope- You can buy these on Amazon for under $15. I love love these for the littles because it keeps us altogether and walking at the same pace.  I never leave without it.  
Transition with chairs: I tried the cute sticker spots on the floor, the tape, number mats everything.  In the end it was just too clustered and lining up was a nightmare.  I finally just had them all sit in chairs and called them one at a time to line up. Sounds so crazy and simple but sometimes we just need to say it out loud.
Preparation:Just simple end of school day routine can help with the next day. I prep communication notes home with names and activities, reset picture schedules and have material ready to go. 
Take pictures of your picture schedule routines that work and have a student reset them if you are not able to.
Transition in the hallway earlier than the bell or main movement times. Oh the horror. You finally get everyone together and then you make your way out into the hallway and it is whole school transition time. The anxiety is real folks. Save yourself the heart attack and leave a little earlier. 
Write out a list of what you would like to accomplish in a morning or day. Next, write out when you have help.  During the times you do not have help, make those the whole group circle or meeting times, group break times, technology time and pull other kids.  See if therapists can come into your room and services kiddos instead of pulling out if that works for that student.  Plan group lessons with therapists.  The possibilities are there!
"There are always flowers for those who want to see them"- Henri Matisse.  Happy thinking outside of the box!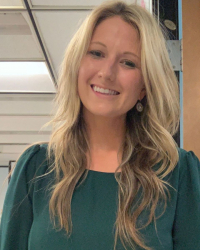 Latest posts by Gina Russell, B.S , M.Ed
(see all)