I cannot believe we are already to December. I knew it would come in the blink of an eye and I have to say I was more prepared with my themed activities! I have jam packed my December with engaging and differentiated activities in the few weeks that schools and home/daycare visits are in session. We have a fun mix of December Bingo, Sugar Cone Tree treats, winter weekly books, and Christmas Literacy Games!
Christmas Reading Centers & December Bingo
This resource is packed full of different activities from five seasonal reading centers appropriate for 1st/2nd grade or special education. This packet also contains two holiday literacy games! Centers and games are hands-on and visual!  I pulled out what was appropriate for the kiddos I was working with, and they honestly loved sorting the presents into different shape categories and the funny punctuation sentences.  Next, we played the December Bingo game and had so much fun using pretzels as our pieces.  This game was great because both my reader and nonreader could participate using the same cards and find success because of the pictures!  Check the literacy resource here and the December Bingo here.
Present & Holiday Cookie Sort!
Lucky for you, Sarah created a FREE big/little present and cookie sort. I love these vibrant and whimsical pictures that make sorting so much more fun.  I chose to use the cookies for my lesson and modeled an example of both big and little.  After that we took turns pulling a cookie out of the pile and placing it where it belonged.  You could always use a big hula hoop on the floor and spread them out even more if you have movement seekers or littles!  Or make a visual box on your table by using some Washi tape so that there is a clear definition to sorting. Sometimes kiddos need to learn the physical aspect of sorting and lines on a table, or a floor can help with that.  Read more about some receptive and expressive tips at Sarah's blog and grab your free print outs here!
Easy Matching Weekly Workbooks-Winter Edition
I chose this set because of the variety in holidays and winter themed activities it included! There is a combination of both errorless pages and matching pages which I love.  With my little guys I'll start with an errorless page just to get a feel for their interest level and where they are at skill wise.  In the beginning, some kiddos may only last through one page of errorless when handed a piece one at a time. And that's ok! Each workbook has different activities at the same skill level so the student or child can do one workbook a day and not get bored. The easy matching tasks are great to build independent work skills, fine motor abilities, and task initiation. This set is great for foundational level learners who are ready to start building these skills and the real photos are perfect for older students! You can find this specific set here.
You all know how I feel about visual recipes and the language and engagement that happens! These sugar cone tree treats turned out SO WELL and was so doable even for little hands.  My biggest tips are to be prepared with ALL your materials (not necessarily just spread out on the table in front of kids), have language boards/devices out, and MODEL before each step! Don't assume they will not squeeze the sugar cone too hard or shake the sprinkles a little too vigorously. Honestly though, expect the mess and HAVE FUN. I love to put a dab of icing on their fingers as we go through the list of ingredients because let's face it, making them wait until the absolute end is just silly.  We added sprinkles to ours because they wanted some "ornaments".  I love how they turned out…and tasted.  Find this recipe and more here.  Happy Holidays!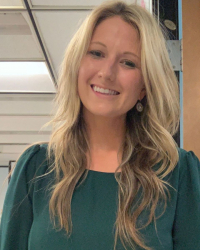 Latest posts by Gina Russell, B.S , M.Ed
(see all)