It is no secret that I LOVE a holiday in school.  I think I love them so much because the level of engagement and language that can be produced is so incredibly high just naturally.  Plus, I just love creating happy moments with my kids.  Below are some of the fun activities and gifts my students will be completing this month (we only have three full weeks before holiday break).
Gingerbread House Core and Fringe
 Decorating gingerbread houses are by far my favorite December activity and I think it is fun for any age!  During circle time we watched a short video on the "The Gingerbread Man" story and discussed the sequence of the characters who appeared in the story.  I created a very simple core and fringe board for decorating our Gingerbread Houses.  I am sharing the PDF file with you here!  Of course, you could easily duplicate this with the different types of candies that you choose to use.  For the last two years, I have used the mini gingerbread houses that you can easily find on sale or a coupon for in stores.  My husband assembles and hot glues them to little pieces of cardboard.  I cannot tell you the stress that is relieved from hot gluing them to the cardboard!  They are so sturdy.  Say goodbye to collapsing walls and frustration! I type up a little disclaimer to parents and save some extra gingerbread pieces for them to taste while they watch the video during circle time.  Plus, there is always plenty of icing and candy to eat while decorating!  We began with a small dollop of icing, encouraging them to ask for "more" icing and "put on" certain sides of the house.  When it came to the decorations, I had them request which type and if they wanted more of a certain kind.  The language just flowed so easily!    
Amazon Felt Christmas Tree
 I had been seeing this felt Christmas tree all over Instagram, so I finally took the plunge and bought an $11 one for my classroom.  Boy am I glad I did!  I stuck the pieces into a "mystery box" and had my students come up, reach into the box and pull out a fun felt piece!  I had them name the object and then make a sentence about where on the tree they were placing it (top, under, next to, etc).  They loved reaching into the box and showing their classmates what they pulled out.  And again….whoa language!  Just search for "felt Christmas tree" and there are a range of prices that you can choose from. 
You could also create your own tree if you're feeling crafty and use extra holiday objects  you already own.  Add some velcro to the back and you are set to go! Turn it into a fun matching activity by duplicating pieces or objects and have them match them on the tree.  Additionally, you could print out images and have them place them, creating sentences or labeling.  So many ideas! 
Long and Short Christmas Trees
I annually have my students make these fun abstract Christmas trees.  We talked about short and long measurements a few weeks ago and have been spiraling shape and number skills.  I precut different pieces of green paper and gathered a bunch of foam sticker shapes and numbers.  With three-year olds, it is all about the prep to ensure generalization of a concept.  There are other times that focus on cutting skills but for now, this was about measuring, comparing lengths, fine motor skills (gluing and placing), and work stamina.  I also love watching them find pride in their accomplishments and having some control over their activity through choosing the strips and decorations.  They LOVED this activity!
Holiday Gifts
This year I wanted to go simple, yet memorable (and not spend a ton of money).   My mom actually found these two kits from Michaels Craft store.They were marked down and we had a coupon for half off!  I think in total both kits were only $5.  I took pictures of my kiddos on my phone and sent them to Walgreens for printing.  That cost about $1!  I have leftover scraps of wrapping paper and some bags that the kids will decorate and use for gifting.
I hope you all enjoy the holiday season with your kids.  I love making school a special place for kids to make memories, feel safe and loved.  Happy Holidays!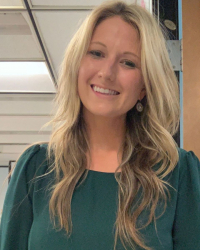 Latest posts by Gina Russell, B.S , M.Ed
(see all)