When starting the new Pre-K 3 program at my school, I asked a lot of parents what they truly wanted for their child's first school experience.  An overwhelming response was, "I want my child to play and learn to love school".  There is so much research that points to learning through the aspect of play that I incorporated it everywhere I could.  Below are some of my favorite hands on toys (some oldies and new ones)!
 Lakeshore Design and Build Water Blocks
Towards the end of the school year I was sent these amazing water blocks from Lakeshore.  There are so many important concepts you can teach and extend with these blocks; however, it was nice to observe them playing.  Before we even played with them in the water, we took table time to explore the curves, edges, and flat sides of the shapes.  We talked about the colors, which ones we could stack on top of each other and why.  I created small groups including both my verbal and non-verbal students together to create interaction.  Next, we went over the expectations and rules of using the water table and set a timer so that everyone could get a chance to play and learn!
Lakeshore Magnetic Fishing Set
Next up is this fantastic little magnetic fishing set, also from Lakeshore (this post is not an ad, just some of my true favorites).  This set helps build eye/hand coordination with weighted colorful fish and 4 fishing poles for shared fun!  You can work on following directions by calling out specific colors (first catch the purple fish) or creating colored cards to pull from to decide which fish to find!   Count how many fish you caught at the end, compare numbers in fish piles, practice basic skills such as counting out certain numbers, the list goes on!  You could also take pictures of the fish and have students fish them out and match the object to the correct picture (why hello ABLLS section B skills!). 
Ladybug Math
These little ladybugs are just the cutest way to practice basic math concepts!  Each soft plush lady bag has a number sewn onto the top. The set comes with numbers 1-10 and enough dots to place on each ladybug.  Start with numbers 1-3 and I personally do not move on until those are mastered.  We state the number on the ladybug and if first teaching the skill I use lots of modeling and only the correct number of dots at first before giving them over the amount.  It's always important to have your student restate the number after counting out the dots to ensure cardinality.  I love working on the Assessment of Basic Language Learner Math Skills with this activity!
Good ole' Mr. Potato Head
One day I brought out Mr. Potato head for some new indoor recess fun during the winter months. When I saw the response and the communication opportunities it offered, I made it a regular part of our play time! Besides being silly and making wacky faces, we worked on requesting, expanding utterances, following directions and prepositions!   I loved watching some of my students who usually just pace around the room holding pieces, be selective in the parts they were choosing.  I even saw them interacting with other classmates trying to put the tiny hats on each other's heads! 
Storage
When I moved into my position, the retiring teacher before me had thankfully organized everything into clear bins with labels! This is the ONLY storage I have in my room as I flipped our faculty lounge into my classroom.  On the way to the bathroom I have many students who love to just stand in here and look at it everything, I don't blame them, I do too! Happy learning and playing!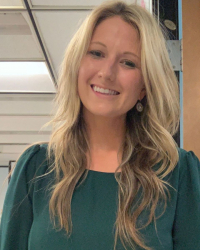 Latest posts by Gina Russell, B.S , M.Ed
(see all)