Oh, I just LOVE the holidays in an elementary school!  The kids are so excited, and I love being themed and making it special for them.  With that being said, I don't suddenly go crazy and throw out structure and routine.  I keep our normal routine for the morning, so we still check schedules, have breakfast, choose time, and circle time.  The only thing that might be added to their schedule is a special star tag for when we parade around the upper grades (haha, as in third grade) in our costumes. Throughout next week, I will be incorporating some of my favorite adapted literature by Sarah Gast, and some special activities on Halloween.      
Adapted Literature and Activities
If you haven't seen Sarah's adapted literature and adapted books, you MUST take a look!  I have used these the last three years and will switch up the activities depending on the kiddos.  My kids have been LOVING the, "What's Scaring You?" book.  These books teach so many amazing skills such as print exposure, tracking, receptive and expressive language skills, matching and so much more. The books are so engaging, and you can really expand on them.  My other two favorites are "Ten Timid Ghosts" and "The Spooky Wheels on the Bus".  I like to make a ghost windsock (and run around on the playground with them) to go with the "Ten Timid Ghosts" book.  For the Spooky Wheels on the bus, we practice sequencing the character appearances with the cards and then create a bus, putting the spooky characters in order!  Talk about scaffolding to higher level standards!   
Pumpkin Activities
We have been learning all about pumpkins this month and I love the way this little art lesson turned out. We read a book about picking pumpkins in the fall and watched a little short video clip on pumpkin parts. During work with teacher we followed directions to create this pumpkin.  In math we have been learning about measurement so this big and little pumpkin sort could not have been more appropriate!
Halloween Day Activities
With little bitties, while they love holidays, they also still love going out for recess and having their center time.  I make sure to sprinkle in my activities during regular times in order to keep with that structure and routine.  During work with teacher time during Halloween we will make little googly eye Play-Doh monsters with pipe cleaners.  It's so simple and such an inexpensive (if not free) craft!  You can also have parents donate these supplies. I was able to find off brand play doh and pipe cleaners at our local Dollar Tree.  For our second activity we will decorate Halloween bags with these silly monster faces (or you can put them right on paper).  I cannot wait to see what monsters they come up with! I found this pack of 24 right on amazon, just search for monster stickers. Amazon prime $7 and I have plenty for both my classes.  And last but not least, the Halloween costumes. This year and last we were Old McDonald Farm Animals.  Happy Halloween!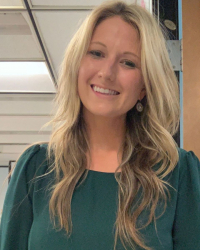 Latest posts by Gina Russell, B.S , M.Ed
(see all)