Halloween and other themed activities may look a little different this year but as special education teachers, one thing that remains the same is structure and the need for language support!  I love creating themed core and fringe language boards so that my students can continue practicing language and have access to all of the fun activities.  I have found that I have some of my highest engagement rates during creative time and recipe following.  This year the plan is to do some pumpkin decorating (or brown bags if you do not want to do pumpkins), making monster munch and play doh spiders or monsters! 
Creating a Party Schedule
Party, special activity, whatever you want to call it, my biggest suggestion is to keep your same daily routine and just insert in fun themed activities. For example, we will still have circle time and I'll add in some fun Halloween type songs and dances.  We will do our "party" during work with teacher time where we rotate activities.  Our Monster Munch will be made during snack and then it's off to centers they go! With such little ones I have found that they still depend on that regular schedule and truly just want to go to centers and outside to play for recess.  I planned two activities at the most because even the change in activity can be overwhelming for some!  Make a simple schedule using Boardmaker or google images inserted into PowerPoint and you'll be sure to keep your kids (and the adults in the room) on task! See my video below for a more step by step look!
Creating a Themed Core & Fringe Language Board
Another tip I learned over the years was to create a one pager core and fringe board for holiday parties. If your student has a dedicated device than you certainly ALWAYS want to have that available and programmed with the special fringe! The core and fringe boards can be accessed by your students who need them for language support and for the peer models in your room. Kids love modeling for others using these boards!  Check out my video about how to create one of these boards!
Happy Halloween and creating!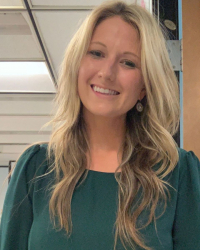 Latest posts by Gina Russell, B.S , M.Ed
(see all)