You guys the nostalgia behind Valentine's activities is real!  I miss the days of decorating those little heart pocket envelopes for desks and passing out sweet treats.  So, you better believe I am taking full advantage of these activities with my daycare and home family kids!  What I love about using these themed activities is that it makes work seem less like, well work!  I picked out some of my favorite leveled activities for February.  Skills spanned from counting, visual discrimination (varying levels) and literacy!
Visual Discrimination & Math
If you haven't seen The Autism Helper's File Folder Activities for Valentine's, you must check it out.  It has TWELVE resources within and as I always preach, you do not have to print them all out at one time.  For this little girl (she is 3 years old), I wanted to target two different levels of visual discrimination (matching hearts), sorting big and little and counting.  These are also meant to be made into file folders however, if you do not have the materials for this, or are working with younger children, OR it's a newer skill, printing them out in this single board fashion can be beneficial.  It is less overwhelming, there are not as many pieces present (often, little kids tend to want to take all of the pieces off then hide them).  You can also separate them like this for independent workstations and build task completion stamina.  IF you have a student struggling with some of the basic levels of matching, think about all the skills that it truly takes to master something like this.  Those hearts have a lot of detail on them.  Especially when you increase to the field of 11!  Take the time to model scanning the details and how to match them first.  You can always slip in some math by counting the hearts on the page once you're finished.  So many options!
Wh-Adapted Book-Valentine Edition!
There are some resources that I describe as the "best bang for your skill buck".  What I mean by that are resources that hit multiple skills at one time! With that being said, you might also see some more frustration during these activities so take it one page at a time if you have to!  Depending on the patience level of the child will determine how I approach this activity.  For example, even though this little girl is just 3 years old, she can handle the whole board of pieces being set out.  For other students, I may only bring out the 3 correct answers and show them how to match. I may also have most of the book completed and target just one of the descriptors such as the color or "what" question box.  That is the beauty of these activities, you can adapt them to any skill level you are working on! This mom used great strategies such as thinking out loud and problem solving when the child was not able to identify the number after completing the sentence strip.  Find the adapted book here.
Wrapping it up is this February Bingo game.  I love how this mom focused on using just one board at a time.  This is a great idea if this is an activity you are just beginning with a student.  You can also see that the bingo descriptor cards are laying out in front of the child.  Here is an area where you can modify by having the pieces in your hands and handing them out one at a time.  There are also different levels to the pieces, one with just words and one with words and pictures!  This game focuses on picture identification, vocabulary building, turn taking, matching and so much more! You can find the game here. Happy skill building!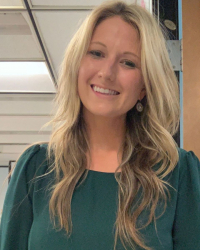 Latest posts by Gina Russell, B.S , M.Ed
(see all)