If you know me as a special education-language loving teacher, you know I am always trying to find different ways to engage my students (and their families) with core language.   Sometimes my activities do not turn out as planned but I've learned a few tips and tricks along the way to keep little hands engaged and materials organized so that we can focus on language and FUN! In this post I show you how to utilize the new core board set that we put together here at The Autism Helper.  I also utilize one of Sarah's Halloween themed adapted books, "What's Scaring You?" (find it HERE).  While this book features several core words, I emphasize the word "on" and then use an additional hands-on activity…play doh spider monsters to continue modeling language! Check it out!
Setting the Stage with an Adapted Book
Depending on your students and how you run your classroom, you could use an adapted book during circle time or as a literacy piece to a small work with teacher group.  Some years I had classes of three-year-old children who could sit through an entire "regular" story book and some where it was most engaging to target an adapted book during a small group or even 1:1 session.  Sometimes it takes months to work up to the attention span of attending to a book. One thing I have found is that even if I have students who are not as engaged with print and regular books/story time, most LOVE adapted books.  The interactive moveable pieces are so engaging, and the books are structured the same way with a word per box.  It creates a very manageable and predictable way to read through the book.  I also love using adapted books to set the stage for an activity.  In the book, "What's Scaring You?" I like to target the core word "on".  You can choose any word that fits your students' needs and either a low, mid, or high cell core language board.  The terms low, mid, and high pertain to the number of symbols on the board (located in a cell or box).  Of course, as always, if your student has a personal assistive technology device and/or a specific language board they use such as LAMP or Proloquo 2 Go, always make sure to model using that!  You can also always have out core boards to model to the whole group who may be joining. It's also important to note that there's nothing wrong with using the core language boards with students who have a robust language.  They love using the boards and this will assist them as communication models to their peers! If you are using the higher cell board, you can extend this activity by using the "wh symbols", answering yes/no to questions and so much more! You can find these featured core boards HERE.  Check out how I use different leveled boards to read through the adapted book!
Follow up Core Language Activity
After reading through the adapted book, I love following up with a hands-on activity.  I observe the highest frequency of engaged language (whether through gestural, vocal, sign, or AAC device) when I use cooking or some type of activity that pairs with core language.  As we currently are entering the fall season, I had to revamp one of my favorite activities…creating spider monsters!  All you need is core language boards/student devices, simple fringe board to match your materials (click HERE for a PDF copy of the one I created): Play-doh/modeling clay, googly eyes, pipe cleaners and some scissors! You could even make your own modeling dough if you wanted to extend this activity even more!  It's important to keep control of the materials so that you can emphasize the targeted core language words.  If you set out all the materials, the attention will no longer be on the language and there will be no need for students to attempt to request or generalize the words you are trying to target! Some other phrases I did not mention in the video to practice could be: "more on" (for more play doh, pipe cleaners or eyes), "want it out" (while pointing to the play doh stuck in the can), "big/little" for size of play doh pieces you hand your students…and so much more! Play around the board beforehand while using creating your own and see how many different phrases you can come up with. We want students to move beyond the carrier phrase, "I want" for everything. Check out my pictures and video below on what to do!  Happy creating!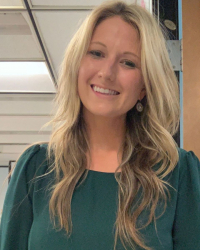 Latest posts by Gina Russell, B.S , M.Ed
(see all)