Fall is by far my most favorite season to plan for!  Not only has the hot Eastern Shore humidity started to dissipate, but it feels like there is a palpable shift in the atmosphere in schools and homes.  I always rely on the Autism Helper for engaging activities.  I love working on basic learner and language skills in a fun way.  My kiddos do not even realize they're doing work!  I feel like so many times basic learner skills are not emphasized because a lot of light shines on the general education core curriculum.  We can't be successful with the core, though, if we don't have the basics down!  Below are some of my favorite activities that target multiple skills at once (think fine motor, counting, number identification, errorless learning, matching, and more)!
Easy Matching Weekly Workbooks
I cannot sing the praises of these weekly workbooks enough.  I always personally assemble mine using a binder ring in the corner (or through all three holes) as I love to be able to take out certain pages and individualize for students.  The reason being is that there are a few errorless pages and there are some matching pages.  Depending on the skill you are working on, sometimes it's easier to just have one page available at a time.  I find that with my little learners (18 months-36 months) the whole book is sometimes overwhelming.  It can lead to wanting to take off all the pieces, mixing the pages, etc.! I also like putting a page in a student's independent drawer or pulling one out for a work with teacher time. You can find these books here:
Easy Matching Weekly Workbooks-Fall Edition
Easy Matching Weekly Workbooks-Halloween Edition
When working with some of our youngest learners, I love using Bingo daubers and palm grasp crayons.  Now don't get me wrong, sometimes art supplies end up in children's mouths.  To be as proactive as possible, I keep the materials at a minimum during a session.  I will have just one Bingo dauber out at a time, I model first, pairing the motor movement with language.  For example, I'll say something like "dab dab dab the paper" while modeling.  I'll then hand the dauber to the child and see first what they do with it.  If it starts going towards their mouth, I gently redirect it back down to the paper and say, "paint on paper" and "dab dab dab" a few times together.  I then let the child try again.  If the child continues to put it towards their mouth, I'll give them an alternative utensil to try and will come back around to it the next day!  I also love using palm grasp crayons for little hands.  This is another great alternative to regular sized skinnier crayons.  The reason is, they're much sturdier (the skinny ones snap very easily, and little hands can be heavy), and if they do happen to get it to their mouth, there isn't a tip to break off and go into their mouths.  You can find this apple tree and many other free printables like it by googling "free apple tree dauber activity".  I like the actual pages because it gives kiddos a visual to aim for when using materials.  It's totally fine if they scribble all over/dab as it's their artwork! You can also practice counting out loud as the make a mark, and pair it with a word like "red apple".  You can find the Bingo daubers and "palm grasp crayons" by searching the terms on Amazon. I have also found the daubers at the Dollar Tree, Marshalls, Target and Michael's Craft store to name a few!
I cannot wait to try this Pumpkin Fluff recipe with my families! I used it last year and let me tell you what, I think I ate most of it!  Prior to cooking a recipe, I will send home a little donation letter to see if a parent wouldn't mind sending in one of the ingredients.  I always kept mixing bowls, measuring cups and spoons on hand in my classroom and now I just use what the families have at home.  You can easily get these from the Dollar Tree (and include them on your donation list)! Everyone can easily participate in following the visual recipes and there are different instructional levels to choose from!  The amount of language and active engagement whenever I do a cooking lesson is huge!  You can find these fall recipes here. Happy Fall learning!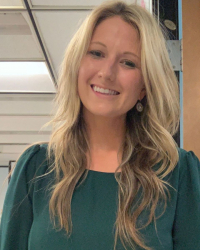 Latest posts by Gina Russell, B.S , M.Ed
(see all)