The first day of school marks the beginning of an exciting journey.  It presents a wonderful opportunity to create an inclusive and nurturing environment, and the right preparation can make it feel less daunting because let's be real, first day jitters can be a real thing!  I always felt like the beginning of the school year was almost like New Year's Eve where you get that feeling of a fresh start.  When I was a classroom teacher, there were a few things that I would never start the year off without, no matter if I already knew my students or not! Check them out below!
Using visual schedules in classrooms has numerous benefits. They provide a clear and predictable outline of daily activities, reduce anxiety, support different learning styles, foster independence, improve time management, and promote a more organized and focused learning environment. There are many different types of schedules from object, visual, written, to a combination.  If you have a brand-new caseload, it never hurts to have pictures combined with words.  I do love individual schedules for all students and on the first day, if it feels too overwhelming, just start out with a few pictures!  Students need to be taught how to use them and they will grasp the concept over time with consistency.  Here are some links to different types:
Picture Schedule Cards- Real photo cards
Color coded schedule cards
Ready to go picture schedule cards
My next essential item is to have some core language boards printed off and available in all different areas in your room (think circle time, centers, work with teacher etc)!  Of course, you should always have dedicated devices out and available for students however, these core language boards can be useful for all students. It never hurts to have a few different options printed off and The Autism Helper has you covered with this differentiated pack:
Using easy matching activity books and adapted books is a powerful strategy for promoting generalization of skills and vocabulary in the classroom.  While in the beginning of the year we want to really focus on routines, I find having a few of these easy matching and adapted books on hand to be the perfect activity.  Additionally they're super helpful in determining what type of skills your students are coming in with.  Some of your students may not yet be ready for an adapted book so you might save that for a circle time interactive read aloud.  Or maybe some of your students are able to come to a small group table and you use the easy matching activity pages to work on some tasks together.  Probably one of my favorite things about these books is that they come in a variety of themes, including Back to School! Find them here:
School Themed Adapted Book Series
Easy matching books- School edition 
Back to School Set Up Tools
Every year I truly loved setting up my student binders.  There was something about starting the year off super organized with everything tabbed and ready to go in an instant. I loved that my supervisors could come in and I could easily chat about any student and show what we have been working on. Here are some back to school templates to save you some time!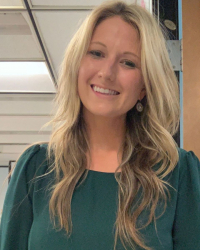 Latest posts by Gina Russell, B.S , M.Ed
(see all)