After almost 12 years of teaching tiny humans in the classroom, I have tried so many strategies to increase active engagement, attention and just overall fun with learning.  Now I am with even younger children (birth to 3), and I have a lot of parents that say their child is not yet interested in listening to stories or even looking through the pages.  This is very typical and sometimes it takes a little longer to spark the interest in some kiddos with literacy. But boy is it important.  You might have to switch up the materials a bit and get a little creative but it's so worth it.
My favorite thing to do during a read aloud is to use some type of story prop.  This can be any form you think is best for your learners.  Objects are great for so many different types of learners, and especially with younger learners.  Giving them a tangible representation of an aspect of the story can be so powerful.  This works on pairing language, generalization of concepts (i.e.: the cow looks like this in the story, flat and on the page but it also looks like this in real life).  The little girl above is just two months shy of turning three years old.  She has great patience and attention for her age, so it was easier to have all the animal pieces out at once.  If I was working with a group of kiddos or with a student with a shorter attention span, I may bring out 1-3 choices for each page. Allow your student to examine the object and play with it a little before completing the task.  We want to encourage that curiosity and natural language that can follow by just waiting a minute or two.  Check her out in the video below to see using objects in action!  **This specific storybook set, and props were something that was passed down to me and is very old! More to follow if you do not have specific matching objects with a story in your classroom or home!
Making your own story props!
It can be easy to get wrapped up into buying things, but I have found that many people are looking to donate toys that their children no longer use or materials so that you and your kids can come up with your own.  Many stories use farm animals, vehicles, foods, people, etc. so finding unwanted objects and toys from homes may be easier than you think!  Below I used materials that come included with Sarah's adapted book, "There was an Old Lady Who Swallowed a Fly" book and some brown paper lunch bags!  This does not have to be fancy or expensive! In Sarah's book packet that you can find here for free, I took the adapted pieces page and zoomed in, took a screen shot of the animals one by one and then printed them out.  Using brown paper lunch bags, I created puppets for the kids to hold up once it was their part in the story.  You could also keep them in a basket and have kiddos come up and put them on their hands and make the animal noises.  I understand that some kids may rip off the picture and not hold it still…that's ok! You can still use the pieces and model first how to use them. Check out the video below and happy reading!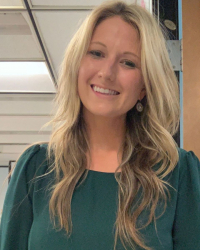 Latest posts by Gina Russell, B.S , M.Ed
(see all)