Coming back from the holiday break can be tough but knowing that snow, winter fun, and snowman themed activities were up next made it just a bit easier! These fun winter themed activities are sure to keep your students interested and engaged!
Easy Weekly Workbooks-Winter Edition!
Knowing there are complete seasonal, and holiday themed easy weekly workbooks makes lesson planning so much easier.  I also love that you can incorporate them for different skill levels. For example, I can use the book with a 2.5-year-old who is just learning how to complete short, structured activities, and with a Kindergarten student for independent work.  There are so many skills that go into completing these books, even if the page is considered errorless.  Students must be able to hold the book down while taking off the interactive pieces (fine motor), understand the task of matching them to an outline or perhaps you're working on identical picture matching such as the winter clothes picture.  Either way, if you are just starting out, don't feel bad about completing just one page.  While I absolutely love binding these books, for my super young learners, sometimes just having them on the ring is best so that I can present a page at a time.  I find a lot of kiddos like to just go through and remove all the pieces (and then sometimes run off). Check out a way a family I was working with extended one of the errorless pages with their son (2.5 years old). You can find this winter edition book here .
Winter Adapted Books & Activity
I used two different adapted winter books: "Where are the Children Sledding?" and "What is the Snowman Wearing".  Where are the Children Sledding adapted book works on the tricky 'where' question by finding the correct child and putting them in the correct location.  In the What is the Snowman Wearing book, students will work on identifying snowmen based on color and clothing combinations. Great to target seasonal vocabulary and functional skills! All books have coordinating visuals so students can work on identifying basic sight words and the text follows a predictable pattern.
Following the books, we decorated snowman and snowflakes using puffy paint and sticky gems that I found at the Dollar Tree! You can be as detailed as you want with this activity, again for some kiddos it may consist of sticking a few gems on their snowman/snowflake to picking a snowman from the story and creating a scarf and hat like the picture! I know I will be using these with my families all month! You can find the snowman and sledding book here. Welcome back!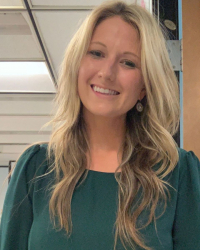 Latest posts by Gina Russell, B.S , M.Ed
(see all)