As the leaves turn vibrant shades of red, orange, and yellow, and the air becomes crisp, teachers are presented with an opportunity to infuse the spirit of autumn into their classrooms. In this blog post, we'll explore engaging ways to bring the magic of fall into your classroom – through adapted fall books and a creative pumpkin activity!
Adapted fall books are a fantastic resource for educators and parents. While I always make sure to include traditional literature, adapted books add a special element of engagement. They often include simplified text, visuals, and interactive elements that make the reading experience enjoyable and accessible to all students. These books can serve as a gateway to explore basic learning skill acquisition through various fall themes, such as scarecrows, pumpkins, and Halloween. These stories not only promote literacy skills however you can also work on math skills using the Halloween Edition book!
When choosing which type of adapted book to begin with, check to see how many descriptors there are per page! For example, the "Scarecrow, Scarecrow What do You See?" book has two descriptors to fill in while the Halloween book has three! This doesn't mean that you cannot start with these books but maybe you will need to scaffold them a bit more. You can fill in one of the descriptors ahead of time, especially if you are targeting number identification versus a noun!  You can find my favorite fall books here:
Scarecrow, Scarecrow What do You See?
Halloween Count Color and Name
Fall Weekly Activity Book
I saw this activity on Instagram and Pinterest and just had to recreate it! While creating individual pumpkins out of carboard may not be feasible time wise, you could make a large one for the whole classroom to work on!  The materials you will need is a pumpkin cut out shape, clear sticky contact paper or packaging tape (for smaller, individual pumpkins), and some fall leaves!  Have your students/child collect some of their favorite fall leaves and foliage and stick them to the sticky background. If you have students that love to take projects apart afterwards, feel free to add clear packaging tape or another sheet of contact paper over top! Hang in the window of your classroom or home for a fun fall stain glass art! Happy Fall!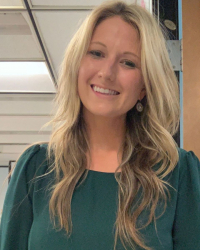 Latest posts by Gina Russell, B.S , M.Ed
(see all)