So, we are nearing the end of the school year and you might be thinking, "I'm burnt like toast and the thought of creating anything is just too much!" BUT!  Some of you might be teaching ESY or summer school or maybe you have a little longer to teach.  I personally have not been in the classroom this year; however, I have made it my mission to bring structure and visuals into our local daycares and Headstart programs.  Ages 2-4 can quite literally feel like you're trying to hold onto a bunch of bubbles all day but there's no reason we can't start teaching a bit of structure through visuals.  I also find a lot of providers repeating directions (multi- step at that) and exhausting themselves with trying to figure out what a child wants.  Follow me along to see how easy it can be to create a picture schedule!
Picture Schedule Best Practices
With my super little ones (2 years old), usually real photo schedules or an object schedule are most appropriate, especially if they have never been in a setting other than home.  I like to take pictures of where the child frequents most and keep it simple yet structured.  If you're going into someone else's classroom or space, I suggest getting their input first and connecting with them with prompting questions such as: "Do you find yourself constantly repeating directions? Are you seeing behaviors that are linked to frustration? Is the child not yet responding to verbal one step directions?" etc.  You must get that buy in from the teacher and if you charge in with your Velcro and laminated cards, you might not get too far!  Sometimes you also must take baby steps yourself with implementing best practices in someone else's space.  I get it. I want to just get in there and add everything all at once but sometimes you have to start with just one to two things.  At this daycare, the teacher was very open to trying new things, so I collected information from her on her schedule, took pictures of the classroom and provided all the materials.  We then set up a small block of teaching time where I could show her how to use the picture schedule and core boards.  Finally, I will return once the student comes to the program and model how to prompt and teach the schedule pieces.  Following through with your promises on providing materials and training is so important!
Creating Picture Schedules
Check out this video on how I create picture schedules…and quickly!  I love thinking about the flow of the room.  Where kiddos enter, what is important to tackle first, especially with a new learner.  Additionally, I print out pictures of the child, so they know where to sit at the tables and on the circle time mat.  Depending on the teacher and the child, you might start off with 2-3 pictures and that's totally fine! Maybe you have on there a picture of the circle time mat, the activity tables and then centers!  You can slowly add on more pictures to the schedule as the child progresses.  In the beginning you will have to physically show them how to take the picture off and how to find its match around the room.  Give yourself and your student lots of grace with taking the time to learn this!  Provide reinforcers (in whatever form that is for your student) and just keep at it!  Picture schedules are also amazing for visual discrimination and matching skills! It's truly a win win!  Happy scheduling!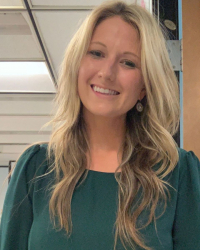 Latest posts by Gina Russell, B.S , M.Ed
(see all)