Let me start off by saying this is still a daily work in progress (and that's ok)!  I currently service ten students from 8:05-11:00 in an inclusive Pre-K 3 classroom. Half of the students have IEPs while the other half do not.  My students range from fully verbal to non-verbal and only one has had experience with a nursery school setting.  To everyone else, this is a brand-new experience!  In the beginning I was drenched in sweat, starving, and had body aches by the time they left.  Glad to say it's improved since then!
As with other classrooms I have designed, I like to work in chunks to ensure that I am hitting all of the necessary times required.  For this program active play is a huge part in building language and social skills.  My targeted skills are based off of the Early Learning Standards and the Child Outcome Summary.  We are expanding so rapidly that soon I will have an afternoon version!  For now, I service IEP students in the Pre-K 4 classroom in the afternoons.
** Important note: on day one we started checking schedules. I had four pictures and slowly started adding in more.  These picture schedules are ESSENTIAL in building routine and independence. They are worth every ounce of routine work.  Set expectations from the very beginning and even three-year olds will rise to them!  Some students have actual pictures of the areas while the other kiddos transition via color matching.
A general day looks like this:
8:05-8:45– Students arrive, hang up their belongings in their cubbies, check their schedules and eat breakfast and/or engage in "choose" time.  My school is Title One funded, so all students are offered breakfast in the mornings. I set out about six mats and my students can choose whether or not they want to eat.  If they do not want to eat, they still turn in their breakfast tag and then their choose tag.  Choose time consists of certain carpet toys, the library shelf, and the center area with stamps/writing.  This keeps everyone busy while we finish breakfast, bathroom and gets some wiggles out. I also take out folders and collect important papers at this time. In the beginning I had everything opened and nothing blocked off.  It was CHAOS. Kiddos were dumping toys and just running. I quickly took away extra toys, physically added walls, and defined carpet vs. center toys.
**We have many students in harnesses and car seats, so the paras gather those kiddos at this time!
8:45- My visual timer goes off and I shake some bells. We begin to sing the clean-up song quietly and help each other put things away.  Next, kiddos help each other check their schedules and they grab the blue "group time" tag.  This is our circle time.  In the beginning it was insane.  We got them to stay in a closed off area for about five minutes.  We now are up to 30 minutes with a few that go in and out!  Sometimes we are all in chairs and sometimes I have three laying on the floor.  In time they will last longer, don't be hard on yourself!
8:45-9:15- Circle Time Routine:
            This was another area that gave me major anxiety.  They are so little, and I had some major behavior problems in the beginning. We kept at it and soon with consistency we have learned what to do during Circle Time! I have a big basket with all of my supplies (ie: AT devices, magical wands, books and hands on items).  Our general routine is:
Match your tag to the wall
Find a chair
Say good morning (we all use the device!)
Calendar: We say the month, clap out the syllables, talk about the letter it begins with and go over the days of the week song and the actual date. My kids LOVE to pick a silly voice to sing in (ie: monster, mouse, princess).  I'll do anything to keep their attention!
Sing a song & movement. Right now, I have a borrowed CD player as I am still waiting on a Smart TV!
Short themed story (this week it's about pumpkins!)
Objects that correlate with theme
Song & movement number two (and more if needed!)
Wrap up and next moves. I'll usually say quietly, "Ok friends, today with Mrs. B you will be doing….. ,with me you will be … and in centers we will practice sharing and cleaning up. First, we are going to go out to recess. When I say go, we are going to stack the dark blue chairs, put back the light blue ones and check our schedules". You would be amazed at how much they can do! Mix your routine with active and quiet times.
9:15-9:45- We travel outside to the playground to play and get the wiggles out!  If it is raining or inclement weather, we will go right into work with teacher time/centers and have some extra choose time during the end with play doh and games.
9:45-10:00- We come back inside and use the bathroom, wash our hands and get ready for snack and drink!  While my paras are outside, I put out the mats and pack bookbags with folders and other papers.
10:00-10:45- Work with teacher/Centers Time-  After snack, kiddos check their schedules again and will either have a teacher tag or a centers tag first.  To read more about how I run centers click here!  It has taken well over a month to establish a good routine and finish assessing my kiddos.  Now that I have more information and know them better, I am starting to add myself into the routine for a little work with teacher time.  Three of my students are working purely on coming to the table and staying for about two minutes. I have to sit behind them and it's full physical prompting and behavior training.  These kiddos are completing more put in tasks and fine motor activities.  While I work on a mini lesson, my para will run the new LEVEL 0.5 curriculums or complete a themed fine motor activity.  While this is happening, we have kiddos use the bathroom again, and we change some of our kiddos.

10:45- Clean-up/ End of day routine:
      At this time, the timer goes off again and I ring the bells. We clean up and close off centers, and the carpet toys open up again while we finish with toileting.  Students get their backpacks and we all grab a loop on the walking rope.  I found mine here on amazon! We walk out to the buses and get everyone safely buckled in. Back inside to straighten up and scarf down some lunch!
Once a week happenings:
Speech time from 9-10:30- Our SLP comes in and I help with speech sessions!
Occupational & Physical Therapy- These therapists come in and service some of our students.
Specials-My principal came up with the great idea about handling specials with such tiny friends.Once a week from 9-9:30, we attend one special. ALL of the special teachers come to help at that time (so that would be Art, Media, Gym and Music).  This is so helpful because they can be a lot to keep track of.  As of now, we visit the gym and actual music class and for art, we stay in my room.  I've loved the activities the specials teachers have planned, and I let them decide which week they want to take a turn.
Raising a Reader-OnFridays, we have our awesome RAR teacher Miss Spivey come into our room. She has a special purple owl tag and they LOVE this time.  Miss Spivey will read a story and bring in a fun activity! I love exposing my class to different teachers and activities!
It sure is a lot to pack into such a short time but I feel like we are able to work on so many skills this way!  Happy scheduling!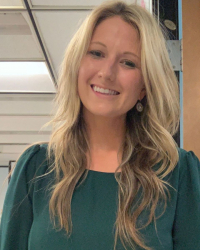 Latest posts by Gina Russell, B.S , M.Ed
(see all)