Games!
I love them. I use them all of the time in my ABA classroom. Last week I was helping two students play a game together. We were working on language, social skills, eye contact, my turn/your turn, staying seated, and all of the wonderful skills games teach when a general education teacher popped in to ask a question. Without meaning any harm, she said "It sure would be nice to play games all day with my students". She had no idea about the learning that was taking place or how hard my students were working at that very moment. I responded kindly that we were learning social skills and turn taking and I'd love if she'd send some of her students down to play games with my students one day.
The whole interaction made me think about the games that I'm using in the classroom and how valuable they are to learning every day. Just like anything else in the classroom, we take data on game playing. I determine well in advance what I want to measure on each student and keep a data sheet going the entire time, unless I'm working on interaction between two students. Then I find it's easier to record the game playing with an iPad and go back and take data after the game is over. I'm just too busy interacting with the students and prompting to take data in the moment. Recording the game session allows me to be present but still collect data.
Here are some of my favorites to use in my classroom. I linked the ones I could to Amazon so you can check them out.
This game is great for turn taking, counting, and can be modified for students who are doing 'put in' type tasks. The hamburgers go into the pig's mouth and you push on his head the number on the hamburger (hamburgers work on number identification 1-4). Don't be afraid to modify games – this is a great one to do so, too! If your students can't roll the dice, get rid of it and just pick a hamburger. This is a great one for working on my turn/your turn language. As one student finishes with the pig, have them pass it to the next student, make eye contact, and state/sign/PECs 'your turn".
This game I reserve for quick, 3 minute fillers, for my students who may struggle with attention and need immediate feedback, or those students working on using one finger to point. This version was less than $5 on Black Friday (yay Amazon!) and makes the 3rd one I have in my classroom. This is also a great starter game for independent play between students. Open the crocodile, and push down his teeth one by one to see which one will make his mouth close. Simple, easy, and no pieces to lose! That's my kind of game!
This game is tricky! It's an easier version of Let's Go Fishing. You open the shark up, and place the fish inside his mouth. Students roll the dice and see if they are to pull out one fish or two from the shark's mouth with a tricky fishing pole. One fish when pulled triggers the shark to fly up and close his mouth. I use this game with my students working on fine motor, but have relative control. The fishing poles are tricky. If needed, you can modify the game by having students just pull out the fish with their fingers. Or, tape the fishing pole pieces together so it makes a straight line, making it easier for students to manipulate. This set comes with two fishing poles, and the game goes so quickly, it works well with just a handful of students.
I love this game! It's so easily modified. Have students play alone or with a friend. Set the timer or don't! The choices are endless, really. Students who are good with puzzles love the challenge of this game, and it's easier to navigate than the original Perfection game. The shapes are more common items such as a flower and a fish. One of my favorite things to do is leave the timer off, and work on student's receptive language. I'll ask them to find a game piece like the flower. Once they find it we work on matching the game piece to where it goes on the game board. Remember to vary your language! Don't just say 'find',  'match' , or 'put with same'. Change it up to help generalize skills. Having the pieces be so small makes it a task for fine motor skills, too, especially when students have to turn the piece just right to get it in the hole.
I have a pirate obsessed student so this was on my must-have list when I was shopping for school things this year. Put the pirate in, pull out the pirate swords, and when triggered he'll pop! This is great when working with a bunch of students. There are a ton of pirate swords, so the turn taking can go between several kiddos and the game still move quickly. To add some academics to this game, I work on color identification. I ask students to pull out a sword of a certain color. It's also great for my turn/your turn language building since you are passing the barrel the pirate sits in.
One of my all-time favorite games! This is sure to catch the attention of even your pickiest game players. Pull up the fox's pants and roll the dice to see how many chickens to put in his pockets. Push on his head the same number of times and eventually you'll catch the fox and his pants will come down sending the chickens flying. My students adore this game and it's the number one asked for game in the classroom. The giggles alone are worth getting it for your classroom!
Candy Land Castle
This is the cream of the crop when it comes to games. Unfortunately, it's not made anymore. Keep your eyes out, though! I've found them at flea markets, garage sales and church rummage sales. It's totally worth being on the look out. I even got desperate and put out an SOS to all of my parents this year when our game needed to be replaced. I had a mom respond that she had one in the basement and the next day it was in my classroom! This game works on shape recognition. Students pull the lever on the castle and a shape comes out. They match the shape to their gingerbread boy or girl or return it back to the castle if it isn't a match. Students love the instant gratification that comes from getting a shape when pulling the lever. One day while playing with a small group, a student pulled the lever and saw his piece wasn't a match so he GAVE IT TO HIS NEIGHBOR. And people think games don't teach skills! Yes, I cried over that one. It was such a great moment. I love this game. Be on the hunt for it.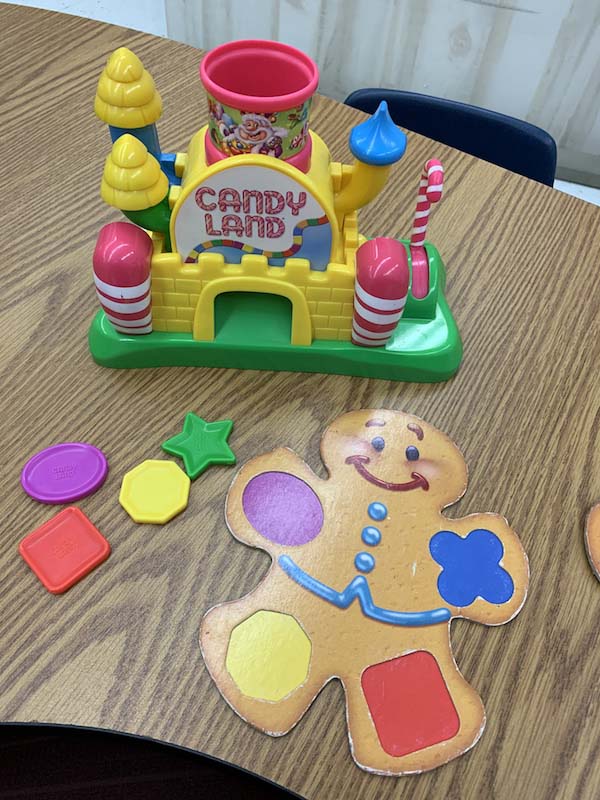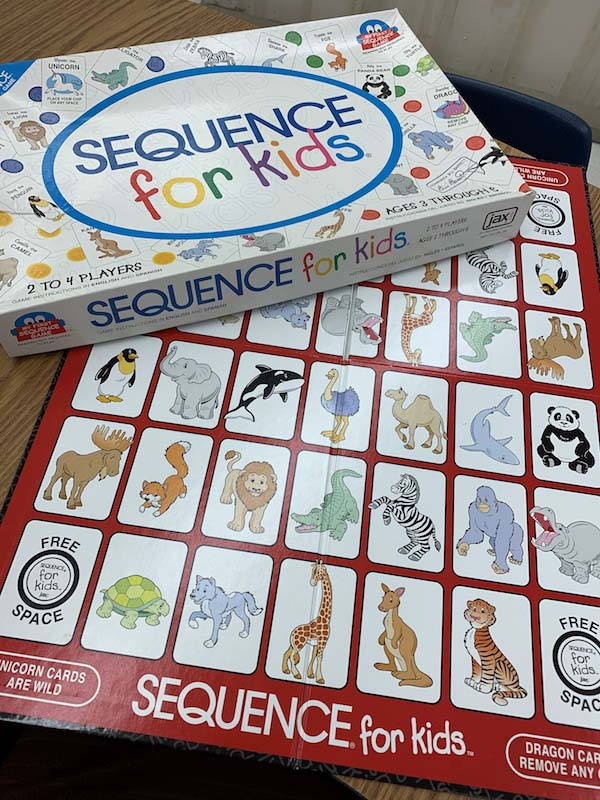 I use this kid's version of Sequence for my higher level learners who need less immediate feedback. Students get cards with animals on them. To win they must get 4 animals in a row. Students can put a chip on their animal one at a time, each turn they take. Students can learn about skills like blocking others from winning, too. This game can be tricky, and really works to expand all of the basic skills learned in the other games. In addition to animal identification, there's a Sequence Letters and Sequence Numbers too!
This pre-reader version of Zingo is perfect for my classroom! One of my co-workers turned me on to it and I'm so thankful she did! What a great game! Students slide the 'zinger' to get a card. If they can, they match it with their board. To win, they fill their board. This game is perfect for independent play, language building, and turn taking. I love that the word is written on the card along with the picture for those pre-readers to build skills, too!
Never let anyone question why you are using games in the classroom. While it looks all fun, you are teaching some serious skills every time students play a game! Invite general education peers to play, too! Or push your kids in to indoor recess and arm with a game they know how to play. Share the games with speech and OT, too! They may want to use them and build on what you are doing in the classroom.
Those are a few of my favorite games, but I want to know yours! What kind of games do you use in the classroom? How do you use them? Be sure to comment below to share with us!
Latest posts by Jen Koenig, B.S, M.Ed., LBS1
(see all)