Well, it's that time of year again! I love the holidays and different seasonal themes to increase engagement and skill building.  You guessed it. It's turkey time!  As I now work with even younger kiddos (sometimes as young as 20 months), I have been stretching myself to differentiate materials.  I love child led play to build skills but I also value some more structured materials for kiddos.  Not everyone is quite ready for an adapted book, so I used two of my favorite adapted books to create some basic learner skill activities using the same materials.
Identical Picture Matching
If you haven't seen Sarah's adapted Turkey book series check them out
HERE!
  I took the last page of turkey pieces, printed it twice then laminated both.  Next, I put soft Velcro on the full sheet of turkeys and cut out the other sheet into individual pieces (and used hard Velcro on those).  BOOM! Identical matching activity. You could use this for students who need some extra practice matching identical pictures or as an additional skill building activity OR an independent activity!  The field is quite large at 12 pictures so feel free to cut the sheet in half to six or even make them into strips of three.  You can always Velcro the correct pieces to the backs of the strips to help with organizing the pieces.  I did the same thing with "Turkey, Turkey, What Do You Smell?" adapted book.  I duplicated the food item page for the identical matching page activity.  See below!
You can also use the extra pieces for a "put in type task".  I use this a lot with my learners learning basic skill acquisition.  This task can also be great for building behavior momentum (ie: you know the student can easily complete and it may proceed a more difficult task).  You can also bump up the language level by adding in some receptive language concepts such as, "put in the one that is yellow and crunchy" or "put in the turkey with the blue hat".
Pretend Play Expansion Skills
My next two activities can be very child led with creating a dinner plate of food and using the materials with real objects such as small skillets, spatulas, and cookie sheets.  Print out several copies of the Turkey, Turkey, What do you Smell book food piece page.  Depending on if your kiddos can cut out pieces will have to be calculated into prepping materials.  You can take control of the food pieces and have your students request through labeling, or maybe they're practicing pasting and holding down paper.  You can follow up with WH type questions such as "what is on your plate?". I would also model for students if needed, "I see you have mashed potatoes and orange pumpkin pie on your plate!".  The second activity is using the pieces with actual real-life objects (even if they are kid sized).  We make mashed potatoes in the pot and we "stir stir stir", the green beans sizzle in the skillet and we serve the pumpkin pie with the spatula tool.  Where do we find these objects? In the kitchen! You can pretend to cook the food using a kitchen center if you have one in your classroom. It's ok to move materials to other parts of your classroom, this helps with generalization skills!
Adapted Book Fun & Pairing Activity
Now of course using the adapted books "as is" is priceless for skill building!  This book, "What is the Turkey Wearing?" technically has two parts to the visual discrimination aspect.  Since all the pieces are turkeys, your student will have to follow a two-step identifying direction because there is a color portion and a specific clothing piece they must look for.  If needed, you can pull down the correct answer piece to make it errorless, two for a choice, or three to throw in an extra distractor. After reading through the book and matching the pieces (or maybe you only do three pages this time), I love making these Tissue Paper Turkeys! This activity I found originally by Made for Me Literacy Unit and I just loved it (find it here)!  All you need is half of a paper plate, some glue, tissue paper scraps, and the face pieces!  If you want to get creative, you can prep some clothing pieces ahead of time and your students can dress the turkey which is both silly and fun! Let me know if you try any of these activities, happy learning!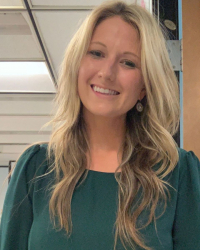 Latest posts by Gina Russell, B.S , M.Ed
(see all)