My love for basic learner skills runs deep.  If you are not sure what I am talking about,
here
is a post to get you started.  I have always worked in elementary school settings and saw HUGE gaps in children when it came to trying to teach grade level standards.  I was trying to teach kiddos about characters and how they change over time in a story…but some of my students did not even know the difference between labels of nouns (i.e.: queen, baby, woman, man, truck, log, etc.). I had students that had severe difficulty matching shapes and letters even with a model.  At the time I did not know these were called basic learner skills… skills you need to learn to learn!  Believe it or not, I was not taught about basic learner skills while getting even my master's degree in special education (back in 2009).  Now that I work with toddlers, we start working on these skills right away. It may look different in how we practice them, but I know it is imperative to get started as early as possible!
There is SO much skill practice that goes into basic matching. Shew.  I had no idea and the frustration I have seen both students and teachers go through over the years from not understanding this concept has been significant.  You might look at a puzzle or a phonics letter page (even with the identical prompt/answer on the page to match to) and wonder why a student is having so much trouble matching the two together.  Matching involves so many skills including scanning of materials, attention, visual discrimination to detail, following directions, motor planning and the physical aspect of picking up a piece and either matching the Velcro and so much more. Throw in motor skills of cutting out the pieces first and then gluing, and you have even a larger skill set on your hands.  These are very typical and important activities in early childhood classrooms (and beyond) so let's practice these skills early and scaffold the skill set so our students can learn the task and be successful.  At the end of this post, I reference how to differentiate these activities even more to reach younger and different skill levels.  Going into homes daily and with spring coming I felt the need to pull out the vehicle themed activities.  When picking out matching activities, really check out the detail.  The above truck matching activities increase in level of difficulty. You might look at the first one pictured and think, oh this one is much easier because it only has 3-4 on each page. True.  Each truck also has multiple colors and patterns within each truck so this task may require a bit more modeling at first, calling attention to the finer details if your student is having difficulty.  The second one has an even larger field, more colors and patterns and details making it more challenging.  The third one below this section is much simpler in detail and may be more appropriate to start with!  Remember that when you find a product you like, you do not have to print out and assemble all the activities.  Most products come in different skill levels so pick out the ones most appropriate and start there.  When teaching matching, for the first time, I like to model out loud, "where is red bus?" and then I will show how I compare them to the choices and say yes/no and then finally… "Red bus!" I like to use the actual label because sometimes students will just repeat the word "match or same" and will think that's what the object is instead of a red bus.
There are so many ways to practice sorting skills.  You can look at big/little, categories, functions, colors and so much more! In these pictures, the little girl is sorting big and little.  Even with these two different activities you can see the different levels of structure and difficulty.  One has actual sorting mats, providing a visual space with less pieces to sort.  The other does not have a physical sorting mat and has way more pieces.  Of course, you can adapt any of these materials to your learners however I wanted to draw initial attention to that skill.  If you are seeing your student having difficulty, think about if more structure to the activity would help.  You can always fad these prompts as the skill grows! With the littles or with students first starting with sorting I like to use objects and toys.  Maybe we put the animals in a pile and all the doll babies in another pile!
Sarah has made so many amazing, adapted books with a variety of themes and skill level.  I always love starting with errorless if there has been no introduction to adapted books or the teacher/parent notes that their student/child does not seem interested in traditional literature just yet.  Sometimes I will assemble these books on rings as well so that I can use only a page or two at a time. That may be enough to begin with to show the skill and keep the child engaged.  It can also be very overwhelming with all the pieces as sometimes kids tend to want to grab at all the pieces on the page.  Start small and work your way up as needed!
Here are the links to the materials in this post!
Vehicle adapted books
Vehicle file folders 1
Vehicle file folders 2
Differentiating Materials for Multi Skill Levels
Here are just a few of my tried-and-true tips for differentiating materials:
Print out only what you need when purchasing a product. You may not yet need all the levels included and this will save you time and resources!
Making them one pager boards instead of a file folder. This reduces the visual stimuli field and can be better for students first learning and control of pieces
Reduce the field of pieces available. Students do not need to sort all 25 pieces in the beginning. Pick a few and then stop!
When using adapted books, do not feel like you must read the book in entirety (i.e.: why I put them on rings sometimes)
Making it errorless (handing them or making only the correct picture available)
Using objects at first, especially if paper materials are not yet engaging
Happy Learning!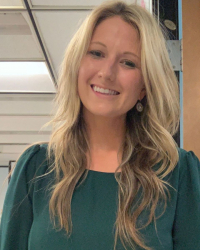 Latest posts by Gina Russell, B.S , M.Ed
(see all)