Something I love most about being in the education field is the feeling of a fresh start each year. Even if you have looping students in the same room, you can always strengthen an area such as the writing center, independent work, or the overall flow of a schedule.  My threes have moved up to Pre-K 4 and I am floored by their adjustment so far.  All that hard work you put into schedules, behavior plans, appropriate skill work, and learner skills really does pay off so keep at it!
This year I have a brand-new set of kids and I am able to jump into a little more intense of a schedule sooner.  My room is also designed a little differently because I can safely leave out more materials. Here are some of my updates!
Schedules and more Schedules!
You know how we all feel about schedules here at The Autism Helper.  Each one of my students has a picture schedule.  Receptive language skills in young children are not as developed, so the need for visuals in the beginning is imperative.  These schedules keep all of my kiddos on track, adults in sync, transitions smooth, and lessens anxiety.  Schedules teach so many important skills about following directions, learning a routine, and navigating a classroom.  This year I made a whole group schedule to review during circle time in the mornings. We also have a circle time routine schedule to keep us moving and on track.  The kids love coming up to the board and moving the pieces into the finished box.
New Structured Areas
My centers this year include math, reading, writing, social studies, science, dramatic play/kitchen, blocks, and art.  In the beginning of the year my shelves are very bare if not empty.  Until we practice how to transition and use each of the centers, they will stay empty.  Again, their receptive language isn't as strong YET and physically closing off areas and not having a lot of materials out will save you from chasing after kids and constantly repeating yourself.
Left to right, top to bottom:  Updated kitchen/dramatic play area, blocks center and cozy corner.
Left to right, top to bottom: I have a new writing center! Students can use dry erase boards, alphabet peg boards, adapted alphabet books, crayons, tracing, and so much more!  The bottom two pictures are my future math/science/art/social studies and science area and my circle time area.  
Work with Teacher Cart 
I have the privilege of having an amazing educational assistant in my room.  As of now, we are teaching a work with teacher lesson at the same time.  With the way my tables are positioned, I do not have a shelf with supplies directly near the both of us.  Plus, our chalkboard table triples as a work with teacher table, choose time in the morning, snack time, and can service the math, art, and science centers! When it's time to work, I simply pull out the cart and it has everything we need to use! Soon, I plan on mounting learning targets and other information on the front of the cart.  Ps it comes with all of the bins and pocket charts!  Here is a link to where you can purchase one or find one on sale.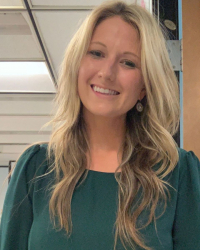 Latest posts by Gina Russell, B.S , M.Ed
(see all)